Hard at Work in the 'People's House'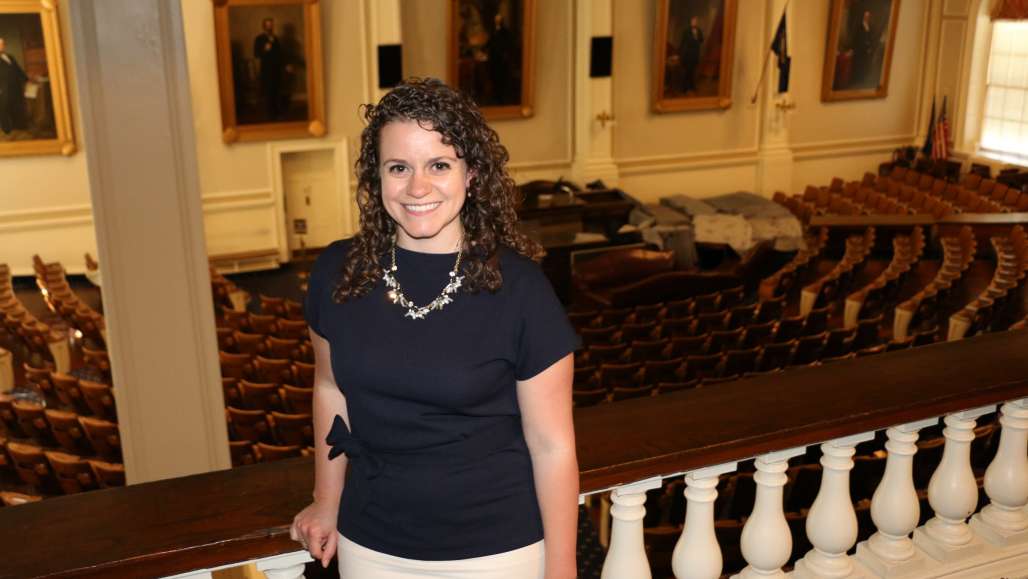 HEAD: Hard at Work in the 'People's House' Megan Stone's degree in history and her penchant for public policy come together nicely in the building where she works, which is also likely New Hampshire's most recognizable "house." As a legislative aide for the largest representative governing body in the United States, she's based in an office on the third floor of the New Hampshire State House – which happens to be the oldest state house in the country where both senators and representatives still meet in their original chambers.
"I love the history that's here," says Stone, a 2012 Keene State graduate. "I love seeing the portraits in the hallways. I love being in the chamber." Stone is one of three aides who work for the Republican leadership and caucus in the State House of Representatives. (Another three work for the Democratic side.)
She spends a lot of time in the chamber where the 400 state reps meet to debate and vote on bills, as it's part of her job to be on hand to handle requests from legislators who might need information or talking points relating to a particular issue.
Because New Hampshire has what's referred to as a "citizen's legislature" – state representatives are volunteers who are paid $100 a year for their service – members of the House do not have their own staffs. That means Stone and her coworkers, in addition to their primary function of serving as support staff for the Republican leadership, juggle a variety of requests from rank-and file Republican members – who numbered 217 leading up to the November elections.
"We do a little bit of everything," says Stone. That includes serving as the political arm of the House Speaker's office when Republicans are in the majority, drafting press releases, compiling and sending out a weekly newsletter, helping find answers to constituents' questions, and managing social media. They also keep track of the key bills that are making their way through committees – a big job, as some 1,000 are introduced each year, and under New Hampshire law each must get a hearing on the House floor.
Stone particularly enjoys the policy side of politics, though she's sampled the campaign side as well. She got involved in politics during her college years. She co-chaired the Keene State Republicans for three years, and got her first job working on a campaign: she spent the summer after her junior year as a volunteer coordinator for Jim Bender, who lost to Kelly Ayotte in the New Hampshire US Senate primary. Later that year, she signed on as a field representative for Mitt Romney's presidential run.
That led to a position, upon graduation, as communications director for the New Hampshire Republican State Committee. She's been a legislative aide for a little more than five years.
The job brought an unexpected personal bonus: a year ago, she married Aaron Goulette, the senior legislative aide in her office. Last summer, they moved to a new house that's just slightly less awe-inspiring than the one where they work.
But despite the grandeur of the building, she knows the work she does there helps New Hampshire residents in very practical ways. "On the state level, we're passing bills that affect people locally," she says, "so we actually see the end product and how it affects people."
Related Stories