Help with Housing, and More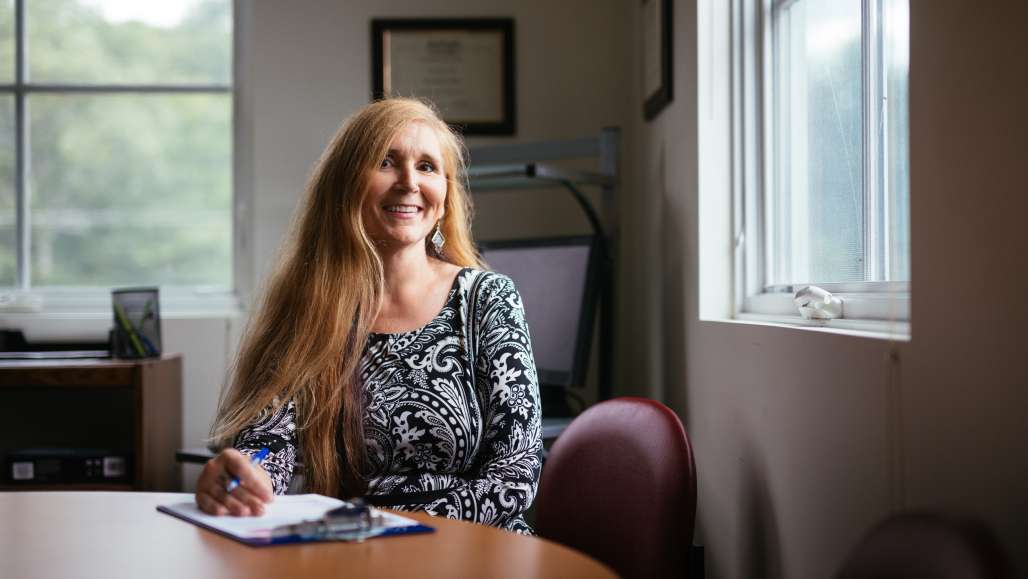 Virtually all of the tenants Laura Scott '89 coaches in her role as a resident service coordinator with Keene Housing have full-time jobs. That makes it somewhat ironic that the public housing authority is part of the federal Moving to Work program.
While many people like the idea of putting those who receive housing assistance on the employment rolls, says Scott, the reality is that they already are – and they still can't afford rent payments. "The big issue is that wages haven't increased with the cost of living," says Scott. "Things have changed, and public perception hasn't."
She cites the example of the husband and wife she worked with who were both full-time Walmart employees. Even making $2 to $3 an hour more than the minimum wage of $7.25, they couldn't support a family of four.
That's where Keene Housing comes in. The nonprofit agency operates several subsidized housing complexes and distributes private housing subsidies for elderly, disabled, and very low income people in and around Keene, all funded by the US Department of Housing and Urban Development (HUD).
Rather than helping people find jobs, Scott coaches them as they move toward self-sufficiency, which could mean finding a better job, continuing their education, paying off debts, or asking for a raise. The able-bodied people that she works with receive a rent subsidy through a step program that gradually reduces the financial assistance they get.
The great thing about HUD's Moving to Work program is that it encourages participating agencies to tailor their offerings to best serve their tenants. For instance, Keene Housing used to require people receiving subsidies through the Resident Self Reliance Program to attend a series of classes on subjects like budgeting and goal setting. Then, one quarter, Scott decided to meet individually with all of the people in her caseload.
She found that one-on-one coaching sessions were more effective than the classes. People who have a personal relationship with her, who have worked with her to set goals, she says, are more likely to follow through on the goals. Because of that, Keene Housing dropped the required classes, and instead tenants meet four times a year with Scott.
She encourages them to think about their lives – what's going well and what isn't, what they'd like to improve. Then the tenants set goals for themselves that might have to do with improving their job situation but are just as likely to be more personal, like getting financial counseling, quitting smoking, finding childcare, or getting out of a bad relationship.
A psychology major and chemical dependency minor at Keene State, Scott started her career working in treatment centers for recovering addicts and alcoholics. She spent a dozen years as a stay-at-home-mom, managed a Curves for five years, and began working for Keene Housing in 2009. "It's the best job in the world," she says. "I love my job and the people I work with."
Scott sees the benefits of affordable housing combined with coaching every day. "It's amazing how much setting a goal can do for you if you really want it and you really believe in it," she says, telling the story of a single mom who worked full time while earning a bachelor's degree, which led to a great job. Another got a human services certificate from a community college, landed a job right away, and enrolled in a four-year college.
"It's incredible to see what people can do," Scott says. "Sometimes they just need a little support and somebody to believe in them. That's what I do."
Related Stories