Above, Beyond, and into the Future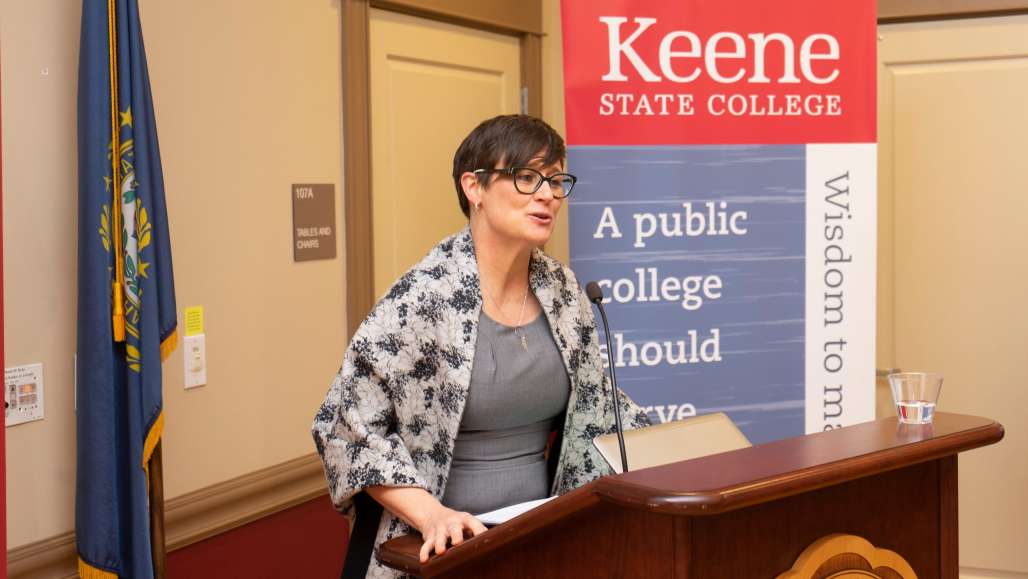 Keene State's First Alumna President Laying the Path Forward
Melinda Treadwell '90 is a woman in motion. On Move-In Day, she can be found lugging students' suitcases up the stairs of first-year dorms. On Election Day, she's taking a turn behind the wheel of the van transporting students to their polling place. Speaking before a gathering, she eschews the podium and paces about, wireless microphone in hand, gesturing as she talks – usually extemporaneously.
"I'm kind of a yellow Lab," Keene State's eleventh president says. "I bound around this campus with unending energy and hope and positivity." What drives all that energy? A desire to be an active presence, to connect personally with students, to be the College's biggest advocate, certainly. But it goes deeper than that, to a determination to push past expectations that can be traced back to her time as a compliance officer.
An industrial safety major/chemistry minor at Keene State with a PhD in pharmacology and toxicology from Dartmouth Medical School, Treadwell tells the story about working as corporate toxicologist for Lockheed Martin Marietta. Her job involved ensuring that the company followed OSHA regulations – all well and good, but, as she tells it, "I wanted to set the standards, not just ensure compliance, because I wanted to do more than just the minimum in health protection." In fact, she says, she wasn't confident that aspiring to satisfy the federal baseline was enough when it came to caring about people and the environment.
"I guess it's part of my indignation about just meeting the bare minimum of things," she adds. "I don't believe in it."
That experience led Treadwell to shift into positions in public health policy in state government and with a nonprofit, which had her building coalitions with business leaders, nonprofits, and advocacy groups and testifying at the State House in Concord and on Capitol Hill. The goal was to "push us to the best public health proposals that we could and also balance the need for economic growth," she says.
The negotiation skills she gained, the ability to speak in a way that's direct and compelling, the deep listening needed to bring people to agreement – she draws on those in her work as Keene State's president. She also draws on her own experiences as a student at the College.
A Longtime Owl
"What Keene State really did for me," Treadwell says, "is open my mind to Janet Grayson's Romantic and Victorian Literature course, where I became passionate about Shakespeare and Chaucer, and through her became a lifelong student of literature. Then I took Music Listening, and a pottery course, and a graphic design course. I wanted to expose myself to things that would make me a better person. I had no idea what college was about, let alone exposure to this whole other side of human experience." She cites Keene State for the values that she holds, for her integrity and moral compass, for the breadth of her interest and the person she's become.
"This is one place where Melinda found her voice and then found out how to use it," says Dottie Morris, the College's Associate Vice President for Diversity and Inclusion, who has worked with Treadwell for a decade. The new president's ability to discern what will drive the institution toward its best future, Morris says, "is rooted in her being an alum and is rooted in her love for this College, rooted in honoring what she was given as a student here and acknowledging how critical what she's learned in these halls is, and how that contributed so much to who she is today."
Treadwell arrived as a first-year at Keene State in 1986, eager to study chemistry and play basketball. She had some rocky moments during her first semester, starting with the five-hour trip from her family home in central Maine. Her mother cried throughout the drive and as they moved her into her residence hall. She talked to her parents weekly in those pre-cell phone days, and they came to visit every other weekend. She thought about dropping out on several occasions.
"I was the first in my family to go to college, and I had no role models," she remembers. But soon she did have role models. Classmates, resident assistants, faculty members, coaches, and teammates all encouraged her to stick it out, and by January, she says, "I never wanted to leave."
From Industry to Teaching
Returning to Keene State as a faculty member after working in the private and public sectors, Treadwell became a role model herself.
"I was a first generation college student, and I was putting myself through college," says Katie (Jordan) Caron '06, who remembers Treadwell as "hands-down the best professor I have ever had" and Treadwell's Legal Aspects of Safety class as "the most difficult that I ever took. You had to work to get your grades, and you had to study. But you also had that sense of accomplishment."
More than that, says Caron, Treadwell believed in her ability, bringing her on board to work on grant-funded research projects, recommending her for her first job, and later offering advice when she applied for the job she currently holds as Plymouth State University's campus manager of environmental health and safety.
Another safety grad who went on to work in higher education, Chris Rowell '03, emphasizes the kind of real-world experience Treadwell provided for him. He was one of three students who interned with her on EPA-funded research that brought them to farm and construction sites around the Northeast, including the site of the World Trade Center attacks in New York City.
It demonstrated to him Treadwell's "drive to give back, in this case to the nation, the world, for the environment, and her passion to give back to the students," he says. She was terrific as an advisor and classroom lecturer, and "she went above and beyond" in sharing her industry experiences and providing hands-on opportunities.
"She set a foundation for my career and helped me to get where I am," says Rowell, who is associate director of occupational safety at Harvard University.
"Here for the Students"
With a vision firmly rooted in her own undergraduate experience, Treadwell has a goal of creating new ways to help students find belonging and greater support. "I had mentors who guided me," she says. "I had faculty who taught me how to combine my passions and my style into a professional arena."
It's no surprise, then, that she values her interactions with students—and they with her. "She asks for my take on things," says Vincent Moore, a junior multimedia journalism major and news editor for the student paper, The Equinox. The two meet weekly to keep the lines of communication open between the student journalists and the College administration: Treadwell fills Moore in on news the paper may want to cover, and Moore uses the opportunity to ask Treadwell for comments to be included in upcoming stories.
In addition, he says, he senses her sincerity. When she asks "How are you?," it's not rhetorical, he notes. She really wants to know. Student Body President Sarah Dugas, an English major/management minor, has noticed that too. "I think it's awesome that you can walk down Appian Way and she'll just stop and say 'Hi,' and ask how your day is going," she says. Beyond that, Treadwell shows up for the occasional student government meeting to share information and offer her help in, for instance, figuring out how to fund annual events in times of smaller budgets.
"She really is here for the students and wants to support everybody that she can," says Dugas.
Looking to the Future
"What matters to me is that I strongly believe the world needs to be better for our kids," says Treadwell, who is motivated in part by a desire to have a better world for her own two preschoolers. Passionate about being the best mother she can be, as well as serving as a successful college president – something she accomplishes with the help of a supportive spouse – she wants her kids to grow up in the Monadnock region and to take advantage of New Hampshire's public university system.
The eleventh president in Keene State's 110 years of existence, Treadwell takes the lead at a critical juncture. Having spent her year as interim president stabilizing the budget, streamlining administrative practices, and putting together a strong leadership team, she is now turning to the future.
Higher education opens doors, social and economic mobility, and awareness of a world beyond one's backyard, she says – and that's something Keene State does well. Treadwell is positioning the College to make those opportunities available to more students in a variety of ways.
Partnership programs like a collaboration between the Chemistry Department and a nearby company, Polyonics, offer real-world experience in industry. A new first-in-the-nation bachelor's degree in construction safety sciences targets workforce needs, as does a new online master's program in safety and occupational health and applied sciences. The College is exploring ways to partner with the Community College System of New Hampshire to develop new pathways for students to earn a four-year degree. Treadwell has made clear her commitment to increasing financial assistance for students through personal contributions to scholarship funds.
Treadwell developed a key skill during her days advocating for industrial safety policies on a national scale: communicating in a way that's unscripted, grounded, and compelling. She couples that with her background as a Keene State alumna to advocate for the College as it moves ahead. As Associate VP Morris puts it, "she has that sense of who we are and reiterates it to all of us."
Treadwell puts it this way: "As a president, to have that alumni experience, I can champion the strength of this institution from a personal level in a way that elevates the argument about the value of what Keene State has to offer." That means highlighting new opportunities along with the broad-based curriculum that is the foundation of a Keene State College education – and that ensures that future biologists also have a solid background in the humanities and that future artists delve into the sciences.
Doing the Right Thing
People who know Treadwell talk about her in terms of following her convictions. Safety alumna Caron remembers her telling a class about being in an uncomfortable situation at a workplace and having to make a moral choice. Student Body President Dugas calls her a "transparency and open relationship type of person."
Treadwell herself talks about having had to do hard things over the past year, but "doing them with heart." She's stubborn, she admits. "I don't walk away from what I think should be right and should happen." And she looks forward to being here at Keene State to follow through on the changes she's set in motion.
"She could be a lot of other places, but she chooses to be here," says Morris.
A primary role for Treadwell is to "make decisions that balance idealism and practicality but always lean toward the idealistic," she says. "I'm not just going to go to the practical edge. I love working with people, asking, What do you want?, and I try to listen deeply and then push us one step further to a broader vision or to an altruistic goal, because I just believe that's what we should be doing. That's just who I am."
When she talks about the Keene State experience, Treadwell is talking about her personal experience as well. As her former student Chris Rowell puts it, "To think about someone who came in as a student and is now president – what an amazing story that is in itself."
Sidebar: Scientist, Policymaker, Academic, President
Starting with the essay she wrote in her eighth-grade science class that earned her a slot in a two-week marine research program, Melinda Treadwell's path to the presidency of Keene State has been paved with accomplishments.
As a researcher, Treadwell secured millions of dollars in federal grant money to investigate air pollutants and their effects on public health, to launch a biodiesel collaborative, to equip a regional manufacturing center at the College, to provide professional development to K-12 science educators in New Hampshire, and more.
As an academic, she rose quickly through the ranks at Keene State, beginning in 2000 as an assistant professor and moving into positions as a tenured associate professor, interim director of the College's Center for Excellence in Learning and Teaching, dean of Professional and Graduate Studies, and interim provost/vice president for academic affairs. In 2014 she moved to Antioch University New England as vice president for academic affairs, and was serving there as provost and CEO when she returned to Keene State in 2017 to become interim president.
"Dr. Treadwell has a track record of success," the University System of New Hampshire Board of Trustees Chair John Small said when she took the interim appointment.
And USNH Trustee Jamie Burnett, who led the Hiring Committee for the president's post this fall, noted that "Under Dr. Treadwell's leadership over the past year, we have seen the campus and its programs contribute greatly to the region and state."
Here are some career highlights that provide an overview of Treadwell's accomplishments:
Education
PhD, Pharmacology/Toxicology, Dartmouth Medical School, 1995
BS, Industrial Safety, Keene State College, 1990
Employment
Keene State College, 2017-present
Interim President; President Antioch University New England, 2014-2017
VP for Academic Affairs; Provost and CE0  Keene State College, 2000-2015
Professor; Dean; Interim VP for Academic Affairs
Policy Work, 1997-2004
NH Department of Environmental Services; Northeast States for Coordinated Air Use Management
Industry Work, 1988-97
MARKEM Corporation; Lockheed-Sanders; Lockheed Martin
Featured Accomplishments
As Vice President for Academic Affairs at Antioch New England, Treadwell led the development of a university-wide Environmental Studies Division, launched a new degree program in Applied Behavioral Analyses, launched an online mental health counseling program, and approved seven new certificate offerings. As Provost/CEO, she worked as part of leadership team to close an $8.7 million university-wide budget deficit.
As Interim President at Keene State, Treadwell balanced the College's budget for 2018, realigned the administration and hired a new leadership team, and led the College in meeting its enrollment target for 2018.
Appointments
Member, State of NH Higher Education Commission
Co-chair, University Business Model Taskforce, Antioch University
Member, NH State House of Representatives Biodiesel Commission
Representative, NH State Department of Education, Teacher Effectiveness Task Force
Grant-Funded Research
State Aid to Higher Education Grant Project, Rural School Educator Effectiveness Collaborative
Grant to launch public, private partnership to support advanced manufacturing in the Monadnock Region
Respiratory Effects of Airborne Particulate Matter in the Northeast, National Institutes of Health
Three air quality/emissions research projects funded by the US Environmental Protection Agency
Two grants on community-oriented policing funded by the US Department of Justice
Honors and Awards
Keene State Faculty Distinction in Scholarship and Research Award
Keene State Alumni Inspiration Award
Meritorious Service Award, State and Territorial Air Pollution Prevention Association and Association of Local Air Pollution Control Officials
High Performance Professional Merit Award, Lockheed Martin
Young Investigator Award, Oxygen Society
National Research Service Award, National Institute of Environmental Health and Safety
– Jane Eklund
Related Stories