House-Making from the Ground Up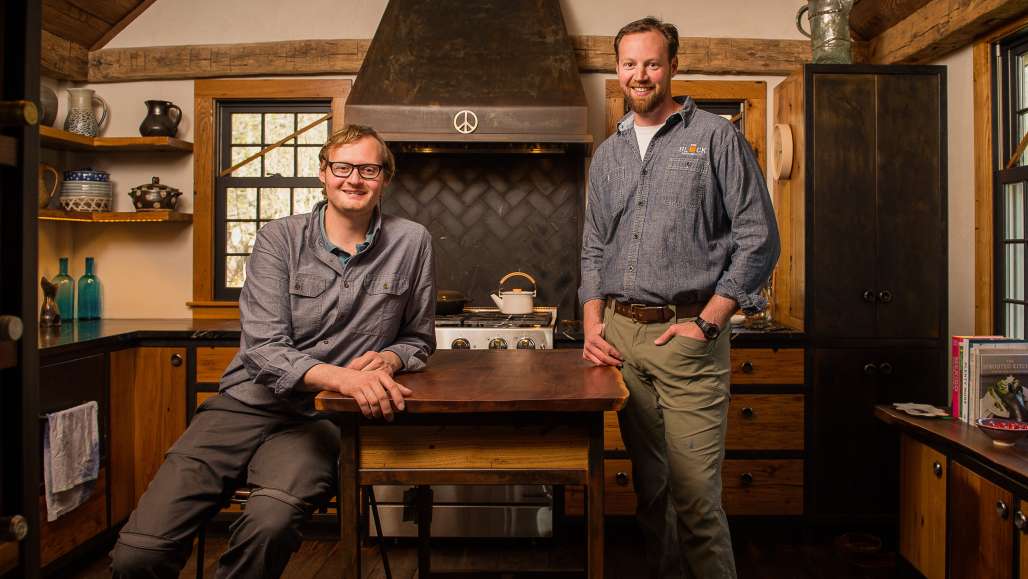 Erik Block '02 had what he calls a "trial by fire" in the design-build business.
He was a senior at Keene State, preparing for graduation, when a fire destroyed about a third of his family home in Connecticut. An architecture student, he headed for the lab and drew up plans for the rebuild. The builder his parents hired took a look at the plans and asked Block what he was doing over the summer.
"I'm looking for work," said Block, who had no construction experience. The builder added him to the crew for the project, which involved additions, a new kitchen with custom cabinets, new siding, and a new roof. "I got an education very quickly," he says.
When the builder he was working for lined up another project that was a long commute, Block decided to go out on his own. He'd been out of college for about 15 months, and was now proprietor of Block Design Build in Hadlyme, Connecticut.
Fifteen years later, the company is going strong. His younger brother, Haldan, joined him as a second designer and builder after working summers for the firm while picking up a degree in design and environmental analysis from Cornell University. And, in an interesting twist, the two mentored their father in the building trade when he retired from a career as an auto mechanic and joined Block Design Build. They have two other workers, and sometimes add one or two more, depending on workload. Two years ago, the company picked up a prestigious honor – Block Design Build was named to Remodeling magazine's Big 50, an annual list of 50 designers at the top of their field.
As a designer-builder, Block is in on the ground floor, so to speak. "When we work with a client we typically try and make sure our goals and our expectations are aligned at the onset, and then we go through their needs and wants for the project, discuss the expectations of each, and tailor the project around that," he says. Some clients know exactly what they want, right down to the color of the paint on the walls. Others are just looking for a certain feeling. Block remembers one woman who showed him a handmade metal bracelet to express the style she wanted.
In all cases, he notes, the homeowners or future homeowners go to Block Design Build because they like the Block brothers' work – the houses, additions and remodels they've done in the past, their aesthetic, and the quality of their construction.
Their style? "I think of it mostly as rustic modern, or possibly Scandinavian mixed with a little Japanese," Block says. "Modern. We are attracted to the New England vernacular, simple barns and houses, simple, clean lines."
Block is currently in the middle of a project in which he's the homeowner as well as the designer and builder. He and his wife, Abigail, are in the process of building their own house. "It's been an incredible journey," he says – and more so because Abigail is also a designer who is now doing interiors. Block describes the process as "taking a deeper look at who you are now and who you are going to be when you're older" – in addition to the usual questions about the structure of the house, its lifecycle as their two children ( a girl and boy, ages 7 and 6) grow up, the budget, and the timeframe.
While construction is underway, the Blocks have been having a bit of an adventure. First, they lived off the grid in a 40-foot RV. They moved into a double-walled canvas tent, complete with a wood stove and framed base, for the summer of 2017. Now they're camping out in a completed section of their new house, which is scheduled to be finished in March.
The house will be net zero – a green building that creates enough renewable energy via solar panels to offset the total energy used annually. An appreciation for green building is one of the things Block credits to his Keene State education. He cites now-retired professor Peter Temple and a number of adjunct professors from nearby Bensonwood Homes, a timber framing company with a focus on sustainability, as influences, and notes that he found his passion for architectural design at the college after trying out a couple of other majors.
"I think the best thing I took from Keene," he says, "is that it set me up for the ability to continue learning. I left the college with a big hunger for questions. There are so many questions. You can't scratch the surface in this industry at school. It takes many lifetimes to do it. So Keene State left me with a wonderful base and a wonderful start to get out here in the real world and start asking the right questions, and go in the right direction."
Related Stories