Saudi Arabian Exchange Student Explores Creativity Through Architecture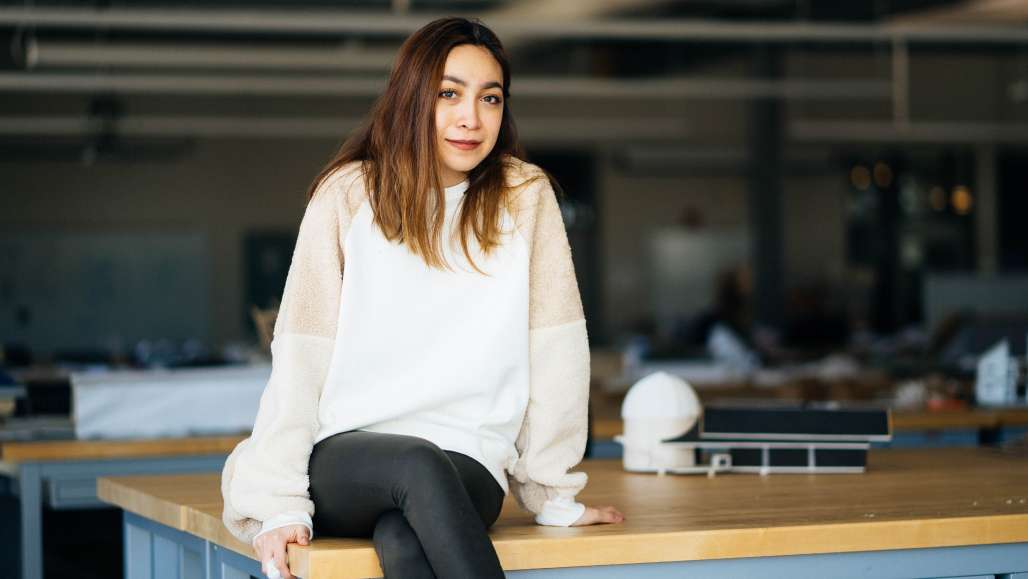 Sawsan Jan is an architecture major and exchange student from Saudi Arabia who studies at Dar Al-Hekma University. Sawsan chose architecture because it's a combination of her many passions. "When I was growing up I wanted to be an artist, and a painter to be specific. As I grew up and looked at different aspects of myself and things I tend to enjoy the most, it led me to architecture because it taps into really different aspects of me as a person," said Sawsan.
Here at Keene State, she's been studying with Fernando Del Ama Gonzalo of the Architecture Department faculty. "Professor Fernando is really encouraging," she said. "Back home when we propose a design or an idea my professors always question every step we take. They need to hear every research point."
At her home university, Sawsan's professors ask their students to constantly research and analyze. Every proposal must be supported with researched facts and not solely based on a personal design choice. However, at Keene State, she has freedom to explore. "Professor Fernando says that your design is up to you and you can choose a design because you like it. As long as it's functional and you know how to design well, you can go with it. I never had the chance to do whatever I want because I like it," said Sawsan. She appreciates that Keene State's architecture program is more relaxed and gives her more freedom to express herself.
Sawsan is involved in Keene State's co-curricular activities as well as her studies. She joined the Cheer Team and is interested in the on-campus radio station WKNH. Sawsan admitted her interest in cheer wasn't just to be involved in the community, but to learn and bring new skills back home with her. "We have a cheer squad back home, but it's the first of its kind, so I wanted to gain more knowledge so I could share it back home," Sawsan said.
One of the most important things Sawsan has learned in her time studying abroad at Keene State is independence. "It's a non-stop journey and I'm going to keep learning more and I'm really confident it's going to add so much to my well-being as well as to myself as an individual," she said. Sawsan also stresses how important gaining new experiences is to her. "Wherever we grow up, we only get to experience what's around us," she said. "When you travel you get to build more knowledge and different experiences, whether it comes from the community or the places, shops, restaurants, McDonald's – you only get to see one part of the world. So why not travel around and get to see a larger scope of what our world is really like?"
By Henry Iwanowicz '19
Related Stories