At Keene State, the Staff is Great!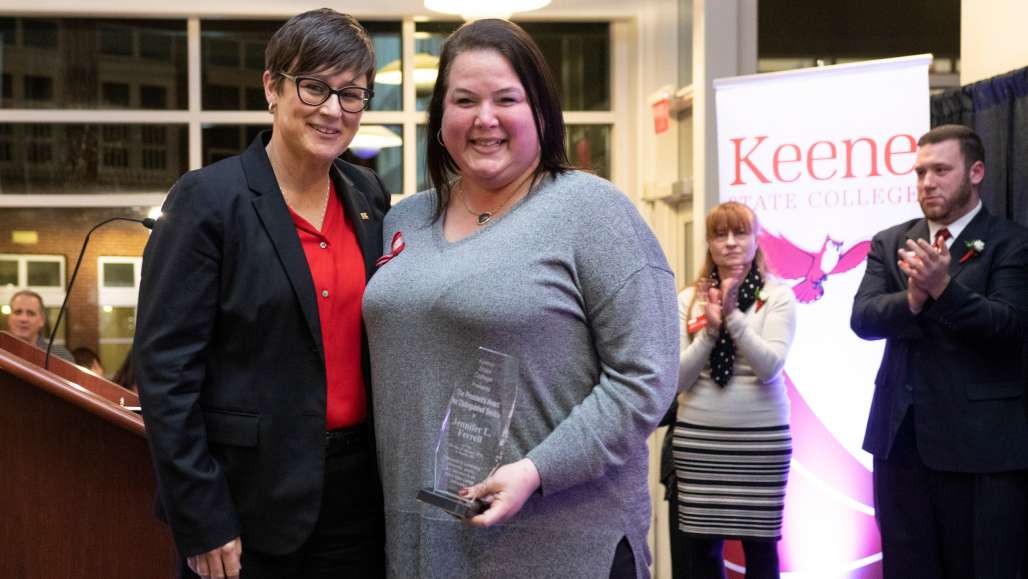 You know living at Keene State College is pretty terrific when the director of campus life wins the College's highest service honor.
Jennifer Ferrell was presented with the President's Award for Distinguished Service at the 2019 Staff Awards of Distinction Gala, held at the Zorn Dining Commons January 9. A 14-year Keene State employee who worked her way up through positions as coordinator of student activities and director of student involvement, Ferrell was lauded by Keene State President Melinda Treadwell '90 for her exceptional leadership, positivity, and contributions that benefit students and the college daily.
The award is presented annually to a staff member who has truly exemplified service to the Keene State community. It recognizes the hard work of an individual who has truly left their mark on the College.
Other award winners:
Matthew Salter, assistant dean of students and director of Student Conduct, was named Collaborator of the Year. The award recognizes an individual who has left their comfort zone and partnered with another individual or department for a project or initiative to better the overall Keene State community.
The Student Accounts Office received the Department of the Year Award. The recipient of this award has contributed to the overall academic and co-curricular experience at Keene State College, and has stepped it up to the next level.
Marianne O'Brien, administrative support coordinator for the Division of Sciences, Sustainability, and Health/Social Sciences, was presented with the Citizenship Award. Echoing the mission of Keene State College, this award recognizes an individual or department who possesses the characteristics of true citizenship. The recipient of this award advocates for social justice and has authentically contributed to the overall city of Keene and/or College community.
Deb Ford, administrative assistant in the Music Department, received the Nate DeMond Service Award. Nate DeMond was an employee who demonstrated pride, dedication, and loyalty throughout his 12 years of service. This award was established in honor of his dedication and exemplary service.
Related Stories