Back from Bangkok Summit, Student Plans to Spread the Peace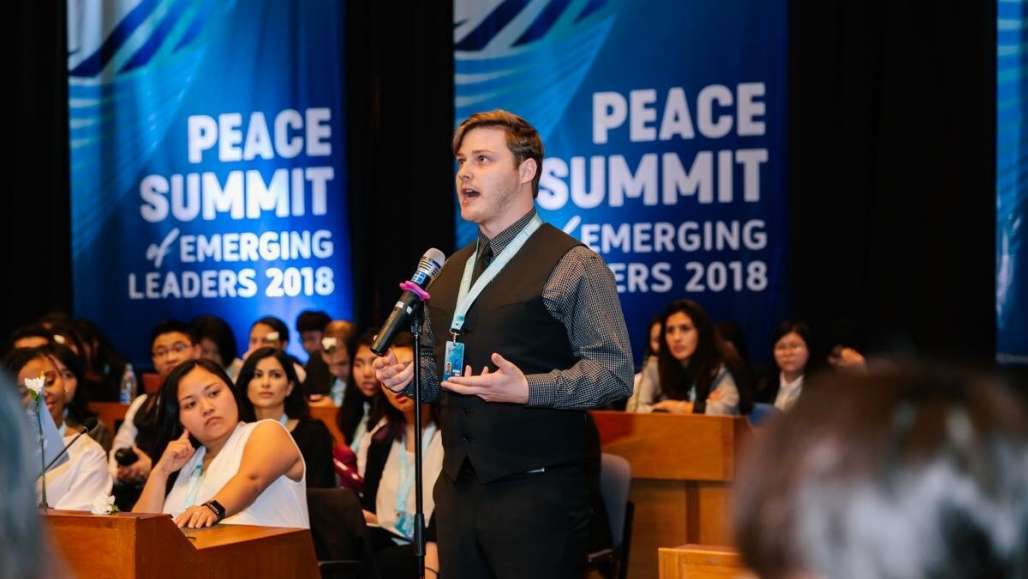 Humanitarian Affairs Asia's inaugural Peace Summit, held last month at the United Nations Conference Center in Bangkok, Thailand, was attended by 347 emerging leaders from 46 countries.
One of them was a senior at Keene State College.
"It was an amazing experience," says Zachary Howe, who is completing three bachelor's degrees through the simultaneous degree program – in sociology, criminal justice studies, and Holocaust and genocide studies. Zachary spent six days in Thailand, including three at the Peace Summit plus a bit of sightseeing.
Humanitarian Affairs Asia is a nonprofit established to empower young people who are passionate about positive social change. It hosts an annual event, the University Scholars Leadership Symposium, that brings together hundreds of delegates from all over the world. With the Peace Summit, it now hosts a second annual international conference.
The event featured several speakers. Ponheary Ly, a Cambodian survivor of genocide, talked about starting a school in her country to make education available to young people there. Rahila Haidary told how her family had to flee Afghanistan after the Taliban found out she had dressed in boys' clothes and attended school. Derek Schwartz, a veteran from Texas who had served in Iraq and Afghanistan, talked about his experiences in war and the ways he is trying now to connect with veterans in his home state.
The summit wrapped up with a simulation based on UN negotiations. The participants – students, recent graduates, teachers, and college faculty ranging in age from 17-35 – were assigned countries to represent in a mock session about a newly discovered island in the South China Sea in the year 2040. "We had to negotiate what we would do with the island, what the different countries wanted, whether we should preserve its natural elements, and, if not, how the island would be used," Zachary says. "It was so eye-opening. It really put into perspective how hard it is to come to an agreement."
Outside of the conference sessions, he had a chance to meet and talk with people from around the world. He hung out with people from Australia, South Africa, Denmark, Asia, and New Zealand, and met people from Afghanistan, Pakistan, the US, Canada, Mexico, and South America.
The purpose of the summit, Zachary says, was to create a group of international peace ambassadors. "Now that it's over, one of our tasks is to try to promote peace in our communities and where we live, starting from the ground up."
Zachary has two immediate plans for working for peace on a local level. One is to raise money for the Cambodian survivor who is working to educate students in her country. The other is to grow the number of people who are spreading peace by establishing a scholarship fund to cover expenses for a Keene State student to attend the Peace Summit each year.
It's a cause that's close to his heart: after he learned he had been nominated to attend by Keene State faculty in the Holocaust and Genocide Studies Department, he scrambled to raise the funds needed for travel and other expenses. He got in touch with Veronica Rosa, executive director of Advancement at the College, Steve Fortier, director of external relations, and Keene State President Melinda Treadwell. With their help, his trip was fully funded.
In January, Zachary is heading to Washington, DC, where he'll spend the semester doing an internship. He's been offered a position with the Metropolitan Police Department, and is waiting to hear on other offers before making up his mind. He'll be back at Keene State in May for graduation ceremonies.
And if all goes well, another Keene State student will go to Bangkok next fall for the second Humanitarian Affairs Asia Peace Summit. "It's an experience of a lifetime that I really want other people to experience," Zachary says.
Related Stories