On the Air with President Treadwell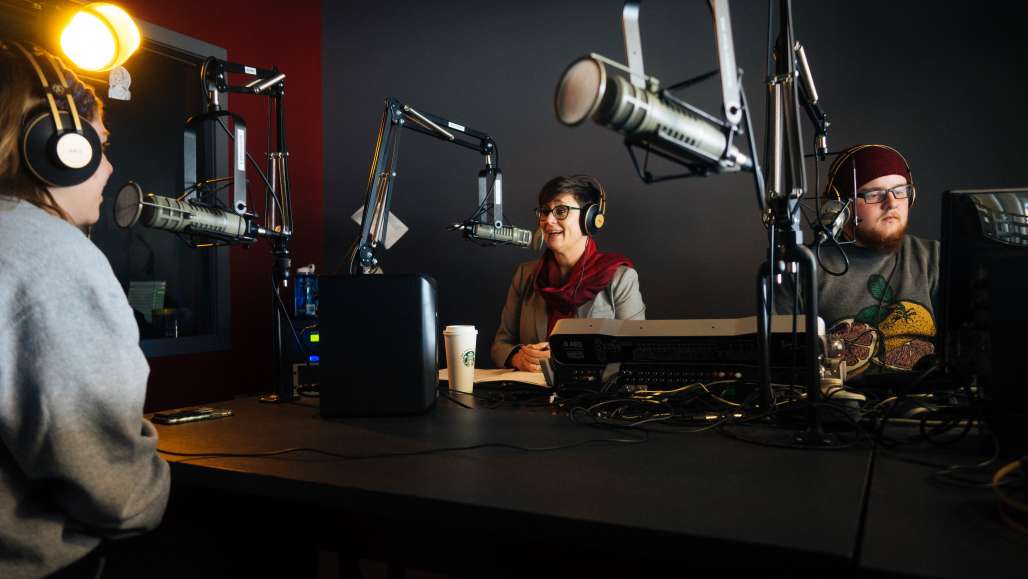 It's 8:30 on a Wednesday morning, and you can find Keene State College President Melinda Treadwell where she is most Wednesdays from 8:30 to 9 a.m.: at the student-run radio station, conducting her weekly show.
Treadwell uses the slot on WKNH to have a casual conversation with a different student or faculty member each week about their experiences at the College. This particular installment of Campus Corner features the president chatting with a vice president – Student Body VP Sydney Olson.
Under the bright overhead light in WKNH's studio in the Student Center, Treadwell kicks off the program by asking Sydney what initially intrigued her about Keene State and brought her to enroll.
"There were a lot of schools right near me but I wanted to make the transition a little farther from home," Sydney says. "I loved the campus and how it looked in the fall and how all the students seemed so close-knit."
The conversation then moves to activities Sydney has participated in on campus, including rugby, the Alternative Break program, an internship, and student government. Throughout the show, Treadwell jumps in to define topics for listeners who may not be familiar with the College. For example, When Sydney is discussing Alternative Breaks, Treadwell tells listeners about the Alternative Breaks trips, which take students to different parts of the country and world to undertake service projects during school breaks, and tells them who to contact if they're interested in participating.
While all this is going on, students stroll past the radio station's studio, peering in curiously through the window and occasionally waving.
The half hour ends with Sydney discussing her post-graduation plans, followed by the president and VP discussing where they've lived on campus. Treadwell is a Keene State grad – class of 1990 – so she's experienced residence life here as well.
Want to hear Campus Corner? Tune in to 91.3 FM – or stream live at www.wknh.org - at 8:30 a.m. Wednesdays when school is in session.
And here's something really cool: you don't have to be a president to be on WKNH. Pretty much any student who gets involved with the radio station can launch a show. Check out www.wknh.org for details.
By Rachel Vitello '20
Rachel Vitello, a junior majoring in journalism, is interning with the Marketing & Communications Department this semester.
Related Stories