In the Classroom, on the Court, and in the Saddle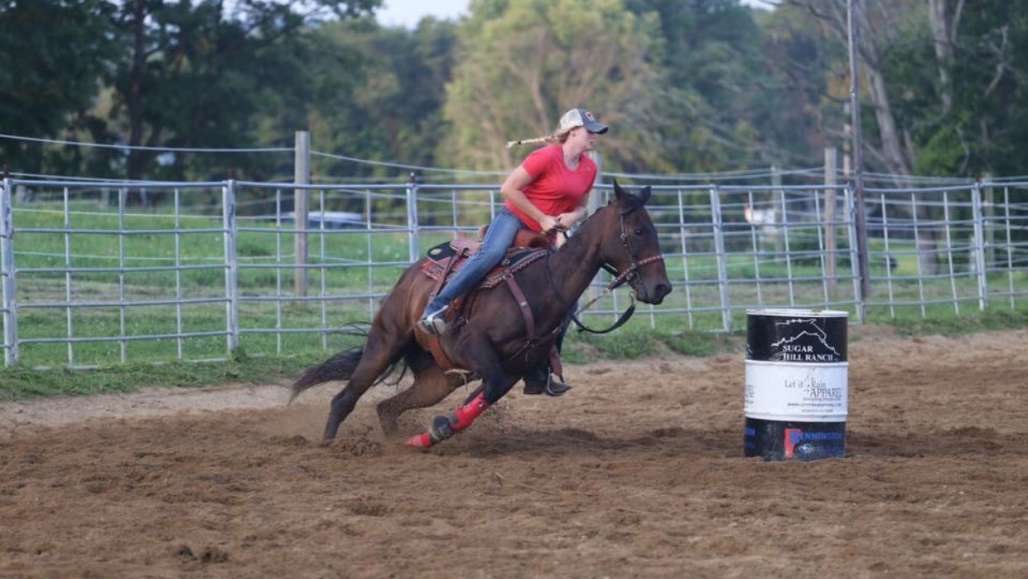 She's an education major by day, a basketball player by night, and a barrel racer come the weekend. Keene State junior Mackenzie Bennett has a lot going on.
Mackenzie has been riding horses since before she learned how to walk. Her family's history of participating in rodeos is what got her involved in barrel racing at a young age and has kept her interest in the sport. What is barrel racing, you ask? It's a rodeo event that involves riding a horse through a course that's dotted with barrels placed in a clover-leaf pattern.
"I've been riding since I was six months old," Mackenzie says – initially while being held by one of her parents. "All my siblings and I were entered in rodeos by the time we were three, and my dad would run us around the barrels. My whole life, I don't remember a time not doing it."
Like riding, Keene State basketball is a family affair for Mackenzie. A forward for the Owls, she's following the legacy of her mother and aunt, who both played for the team.
Mackenzie's family owns a horse farm with about 70 horses in upstate New York. Riding is part of her everyday life when she's home. As for barrel racing, Mackenzie says she competes two or three nights a week in the summer. She rides in open rodeos, which don't require a permit from the Professional Rodeo Cowboys Association and are open to riders under 18. An arena that's a ten-minute drive from her house is her family's go-to for rodeos.
The Bennetts have been involved in rodeos for years. Her parents participated in rodeos and her uncle is a national champion who made a career of it. As for Mackenzie, she rides rodeo for the fun of it and for quality family time. She also hopes that the next generation of her family can find just as much enjoyment in it.
"It's an adrenaline rush. It's so much fun, especially to do it as a family," Mackenzie says. "My cousins and my siblings and I all started riding together with all of our parents. Definitely our kids will do it together eventually." Barrel racing and rodeo riding aren't typical hobbies. Mackenzie says that when her friends learn she barrel races and owns a horse farm, they don't really understand it, and when they see her horse farm they're surprised. But this lifestyle is so normal for Mackenzie that she doesn't think of it as anything out of the ordinary.
"Rodeo is a small world, so a lot of family friends grew up rodeoing," says Mackenzie. "I definitely had a lot of friends that rodeo, but my friends from high school and college, not so much."
After she graduates next spring, Mackenzie plans to continue barrel racing. With a double major in secondary education and history, she thinks a teaching schedule will be ideal for barrel racing in the summers. She also hopes to be able to somehow incorporate her passion for horses into her career.
"Horses are year round, they never stop, but a teaching schedule makes it very flexible for the summers," Mackenzie says. "I'll definitely rodeo more once I graduate, but you can incorporate horses in almost every aspect of history, so I'll be able to do that."
– by Rachel Vitello '20 
Rachel Vitello is a Keene State College junior majoring in journalism. She is doing an internship with the Marketing and Communications Department this semester.
Related Stories