Fraternity Participates in Fundraising Event to Fight Hunger and Homelessness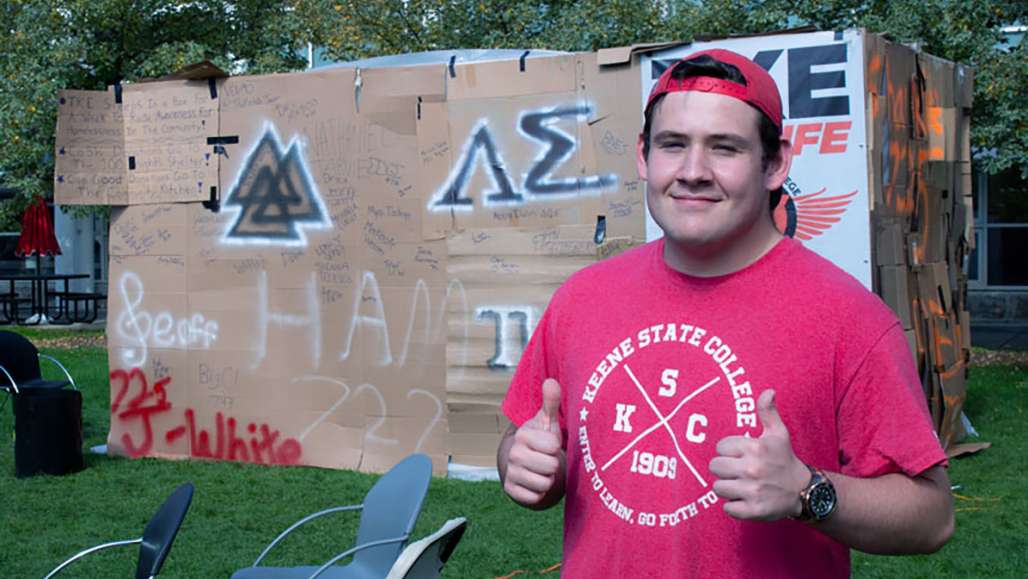 Keene State Greek organizations regularly give back to the local community by hosting fundraising events and volunteering for organizations. Recently, the brothers of Tau Kappa Epsilon (TKE) held their annual TKE In a Box event. During the day, members of the fraternity collected canned goods and cash donations on the Student Center lawn to benefit the Keene Community Kitchen and the Hundred Nights Homeless Shelter.
"Lots of families, especially in this region, struggle with putting food on the table. The Community Kitchen is a good source for people who can't afford food. The Community Kitchen doesn't turn anyone away," said student Jason White, Chapter President of TKE. "In terms of homelessness, it's definitely a seasonal problem, with the Hundred Nights Homeless Shelter only being open half the year, there is more of an influx in the colder months."
To better understand the issues for which they are raising awareness, each member of the fraternity sleeps on the ground one or more nights in a box made of wood and cardboard during the event.
Chris Hamilton, a student and the New Member Educator of TKE, says the event demonstrates one of the organization's core values. "One of our most important principles is giving back, this is all about helping others as much as you can and not judging anybody based on their status. We uphold this locally and nationally through our philanthropic efforts."
Despite inclement weather forcing the fraternity to shut down a day early, White says this was one of the better years for fundraising. The Fraternity raised $250 and collected 40 cans of food.
"This was the sixth year our chapter has put on TKE in a Box. Since we started it here, it has become one of our biggest philanthropy events that we do each year, and we are looking forward to keeping it going," said White.
For more information about Keene State Greek life, visit, https://www.keene.edu/life/si/programs/greek-life/
Related Stories