Collection Brings a Grim Piece of History to Life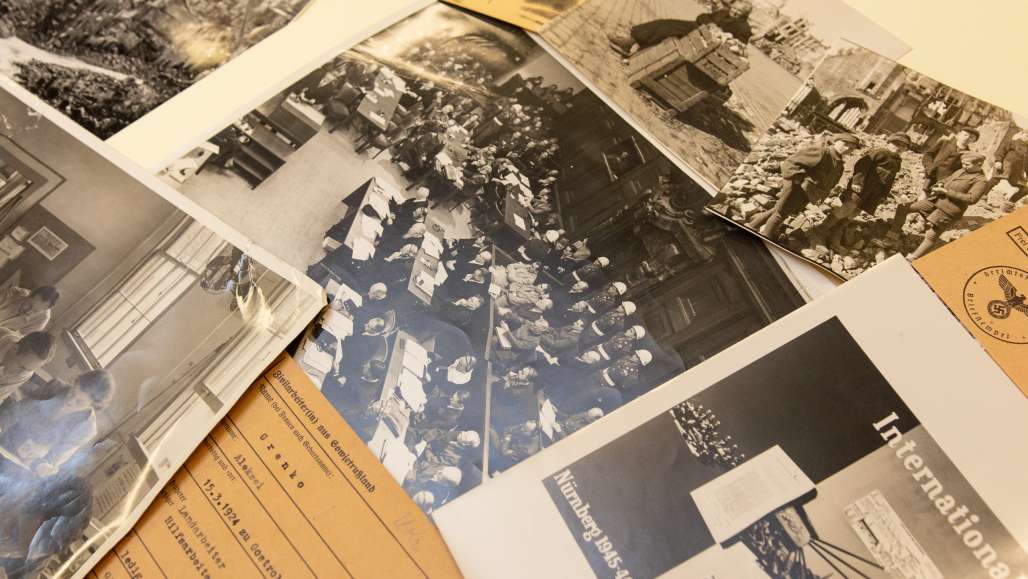 "To Remember … and to Teach" is the charge of Keene State's Cohen Center for Holocaust and Genocide Studies. A recent donation to the Cohen Center and the College's Mason Library Archives makes a significant contribution to helping us all remember and learn about one of the darkest times in the world's history.
Nina Salvatore, a resident of nearby Putney, Vermont, donated a large collection of photographs of post-World War II Nuremberg, Germany, the city where Nazi war criminals were put on trial for war crimes, along with other materials that belonged to her father, Ivan Spear.
Spear, an artist with the US Office of Strategic Services, a precursor to the CIA, was the official photographer at Nuremberg, and was also one of the designers of the original logo for the United Nations. The collection includes photos taken in the courtrooms where the trials were held, Nazi war medals and citations, and documents from Spear's United Nations work.
The material holds great significance. The Cohen Center plans to use it in its primary source literacy curriculum, and will display some of the artifacts in the exhibit spaces in the new Cohen Center addition, which is currently under construction.
Related Stories