Once an Owl, Always an Owl: Career Connections for Life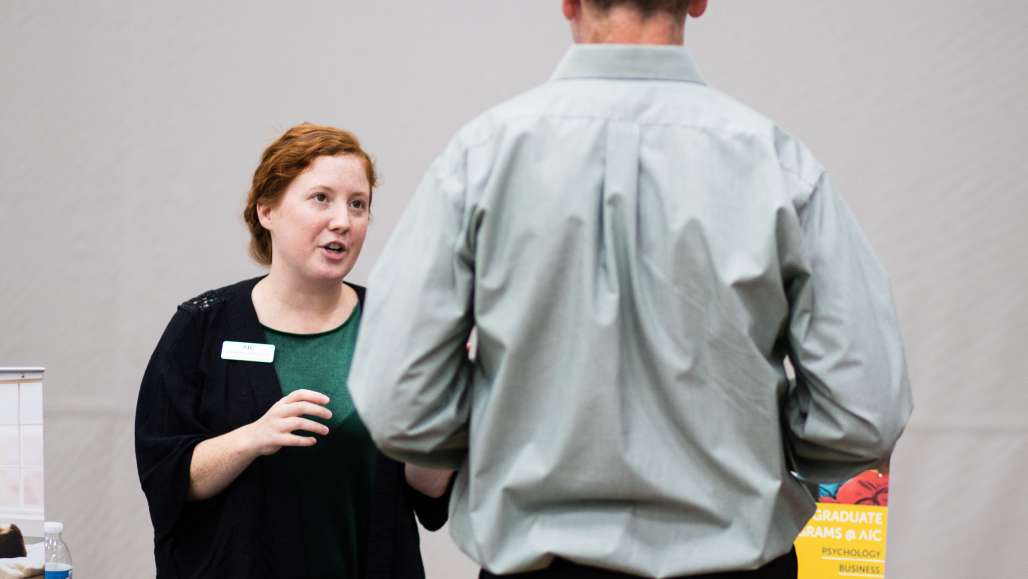 When Keene State College students graduate, they move on to new things – but no matter how far they travel, they will always be part of the College community. That's why alumni call themselves "Owls for life."
What does that mean for current students? A vast network of people who are eager to share with you what they've learned in their careers, help you put your best talon – er, foot – forward when you're starting to think about moving into the working world or continuing to grad school, and even work to line you up with a job or internship.
We chatted with a number of Keene State alumni at the October 18 Future Fair, where over 50 "Owls for life" were representing their own companies, agencies, organizations, and grad schools with the aim of talking with students who might be good fits for full- or part-time employment, internships, or master's programs.
"It feels great to be back," said Rebecca (Houle) Prigge '08, who was representing the University of Vermont, where she is international student services specialist. She was on hand to recruit students for UVM's sustainable innovation MBA program. A psychology major, Rebecca used the skills she learned as a Orientation leader and Admissions tour guide at Keene State to move into a career in higher education. Her degree comes in handy, too: "I use psychology all the time," she says.
Marcy Frink '02, a human resource specialist for Monadnock Developmental Services, a Keene agency that works with people with developmental disabilities, was recruiting students to work part time as direct support professionals. The job has a flexible schedule and is suitable for students in pretty much any field, she said – and has the benefit of providing great experience and resume fodder post-graduation. Marcy said it was fun to be back on campus: "I texted some of my girlfriends from college, and I said, 'Oh, my gosh, I'm walking around Keene State and I miss you guys!'"
New Hampshire Marine Patrol Staff Development and Training Specialist Stephanie Colcord '04 and Sergeant Seth Alie '02 anchored the Marine Patrol table. "We're super excited to be here," said Stephanie, who worked summers for 12 years as a dispatcher for the patrol, starting the summer before college and continuing through her teaching career. She recently joined the patrol as a full-timer. "I had a great experience at Keene State and with the Marine Patrol," she said. The two were recruiting people to work as seasonal officers. It's a great way to get law enforcement experience and see what the work is like, they said.
Stephanie Zinn '97, a chemical dependency major, has been recruiting at the Future Fair for several years, first as a representative of Masiello Employment and this year as a human resources staffer for the City of Keene. Stephanie works with students at other times of the year as well, participating in Resumania, an event where alumni help students sharpen their resumes, and with the Academic and Career Advising Office's career clinics. "It can be a little intimidating being a student and not knowing where you want to go and what you want to do," she said. Her goal is that students think of her – and the City of Keene, which hires workers in a number of fields – when they're looking for a job.
Hannah (Hayes) Hartzsch '11 remembers being an intimidated student. "I can relate to students' experience here," she said. "I came to this event as a student, and I was so nervous about talking to the recruiters. So now I can help break down that barrier." A business administration major/communication minor, Hannah is now director of graduate admissions at American International College in Springfield, Massachusetts. She was especially excited to talk with students about American International's new exercise science master's program, which has a concentration in strength and conditioning.
Related Stories