Our English Profs are Writing Pros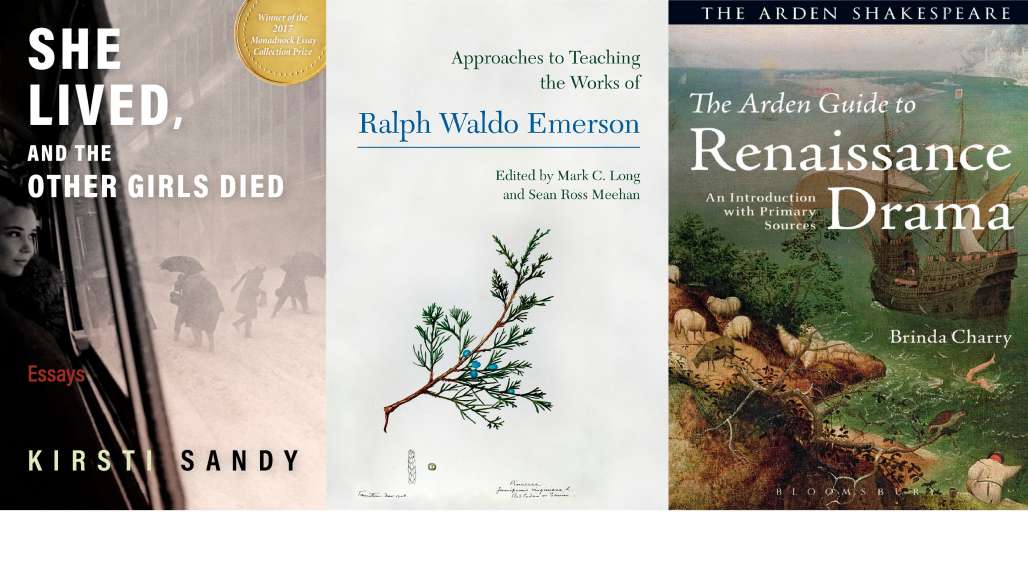 New books from Keene State English professors have hit the shelves. The publications highlight the range of expertise found in the faculty of the department, which offers options in literature and both creative and professional writing.
Kirsti Sandy, professor of English and dean of Arts, Education, and Humanities, is an essayist whose collection, She Lived, and the Other Girls Died, was published this month by Bauhan Publishing. A coming-of-age memoir in six parts, the book was winner of the Monadnock Essay Collection Prize.
Mark Long, whose interests include American literature, environmental writing, and the teaching of writing, is co-editor of Approaches to Teaching the Works of Ralph Waldo Emerson. The book, released in August by the Modern Language Association, features 27 essays and a comprehensive section on resources about the noted Transcendentalist writer.
Brinda Charry, who is a published novelist and short story writer in addition to a scholar of British literature, is author of The Arden Guide to Renaissance Drama. The book, from Bloomsbury Publishing, examines the historical and cultural context behind the theater of the Renaissance period, and offers a close look at a number of well-known plays.
Jeff Friedman is a poet and essayist whose courses have included Writing Funny and Cooking, Eating, and Dreaming. Plume Editions/MadHat Press published his seventh book, Floating Tales, a collection of fables, prose poems, and other prose pieces. His eighth book, Marksman and Other Poems, is forthcoming from Carnegie Mellon University Press.
Kate Tirabassi, director of the college Writing Center, collaborated with two Education Department faculty members, Tanya Sturtz and Darrell Hucks, on a book, Fostering Positive Civic Engagement Among Milennials. The book focuses on reading, writing, research, and student experiences, with an aim to enhance the first-year college experience.
Related Stories