New Students Reduce Stress with Therapy Dog Program on Campus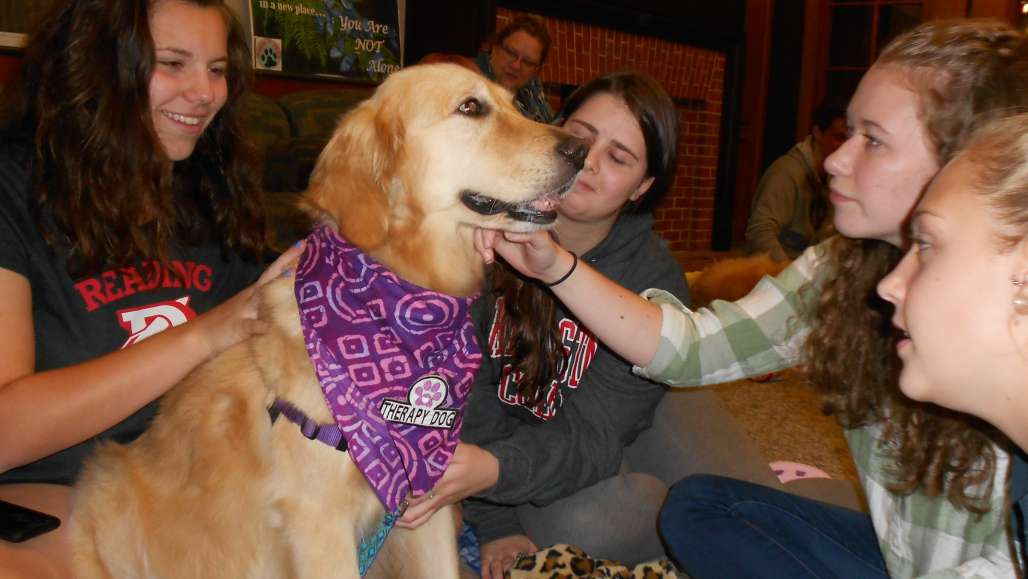 The beginning of a student's first year of college can be stressful. Adapting to class schedules, higher academic stakes, dorm living with new roommates, being away from home, and finding the right balance between academic, social, and personal interests can be challenging. To help students to transition into college life, Keene State partners the Monadnock Humane Society to bring the Paws 2 Play program to campus.
Once a week, the Monadnock Humane Society provides certified therapy dogs to students, giving them an opportunity to pet, pamper, and play with the dogs. Time spent with the dogs decreases homesickness and helps remedy college stress.
In addition to spending time with therapy dogs, students can connect with faculty and staff who provide support and guidance to help students get the resources they need. Additional student resources are available during Paws 2 Play include tips on stress-management, academic success, and fostering healthy relationships. Information about Keene State's various clubs and organizations are available as well.
While the program is designed for first-year students, all Keene State students living on or off campus are welcome to attend. The program runs September 6 through November 15 from 7:30 p.m. - 8:30 p.m. every Thursday night in rotating first-year residence halls.
Related Stories