Students Gain Skills and Land Jobs Through Long-Standing Partnership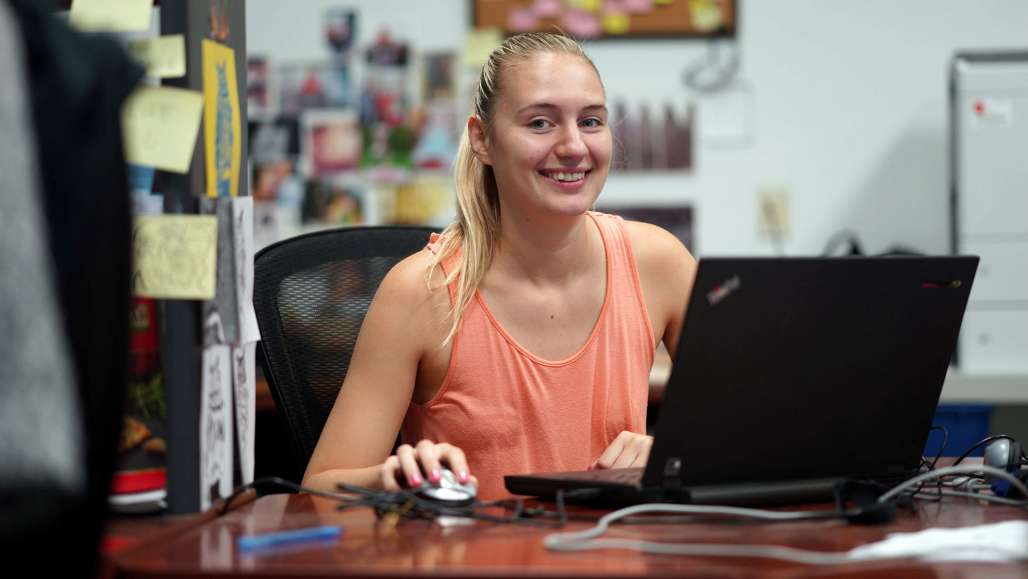 Having access to opportunities during college to work in a professional environment, build a resume, and learn new skills is an essential part of being prepared for success after graduation. Keene State has many long-standing partnerships with employers throughout the region and beyond to provide students with these opportunities. One close partner in this effort is Keene-based Electronic Imaging Materials, also known as EIM.
Corinn Colford, a Manchester, NH native and junior at Keene State studying film production and graphic design, connected with EIM through a job fair hosted by the College in spring of 2018.
"My professors push me to be the best I can be when it comes to my work. This paid internship prepares me for the outside world. Because of this opportunity, I have so much experience in editing, filming, and creating graphics. I learn something new everyday. I use different programs and learn new film equipment over time. With this internship, I learned that I definitely want to incorporate graphics with film in the future."
Keene State and EIM have worked together on a paid internship program for more than a decade. During the most recent five-year period, EIM has had over 20 Keene State interns with the average stay being 16 months, and at least five were hired full-time.
Alex Henkel, president of EIM said, "Providing paid internships through Keene State College has connected us to talented students studying architecture, communications, chemistry, film production, graphic design, management, and sustainable product design. We frequently have different academic departments represented each semester, allowing students to work in interdisciplinary teams supported by experienced professionals to solve real-world problems within our company and for our customers. This mutually rewarding relationship often results in students extending their internships beyond the initial semester. A significant number of students have been hired full-time by us after graduation, with others using the internship experience as a stepping stone to a professional position or further study within their field."
More on Keene State's career fair on October 18, 2018 is available online.
Related Stories