New England Wildflower Society Brings Pollinator Garden to Keene State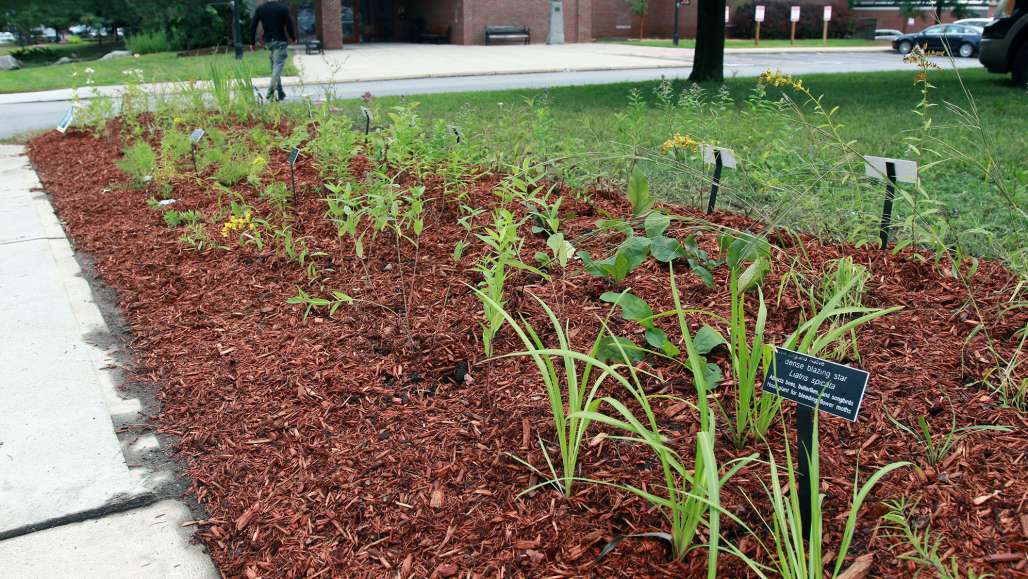 Sustainability on campus is continuing to expand. The New England Wildflower Society selected Keene State College as one of its locations for Pollinate New England, an initiative aimed at raising awareness for the steep decline in pollinator populations across New England. Students and the greater Keene community will benefit from the garden as it presents an example native plant garden to emulate and provides a resource for students to use in field studies.
New England Wildflower Society is a nonprofit organization dedicated to conserving and promoting the region's native plants to ensure healthy, biologically diverse landscapes. The initiative includes the installation of a native-plant garden followed by a lecture about how to build beautiful gardens that nourish and support New England's pollinators, from bees and insects to birds and other animals.
"When I first learned that the New England Wildflower Society was looking for 12 sites in New England to install a pollinator garden, I immediately thought Keene State would be a good spot because of the educational possibilities it would afford students and its high visibility to the community," said Katie Featherston, a biology lab specialist who also manages the College's greenhouse.
The garden was planted along Wyman Way, between the Elliot Parking Lot and the Thorne-Sagendorph Art Gallery. Participants received hands-on training and learned how to plant a pollinator-garden in their own backyards.
The evening lecture offered additional resources and information about the importance of creating native-plant habitats to help sustain our region's pollinator populations and increase biodiversity.
"The garden also supports our commitment to sustainability. I was very excited to learn we had been chosen for one of the sites," added Featherston.
To learn more about Pollinate New England, visit www.NewEnglandWild.org.
Related Stories