KSC Students Present Biomedical Research and Network with Peers and Employers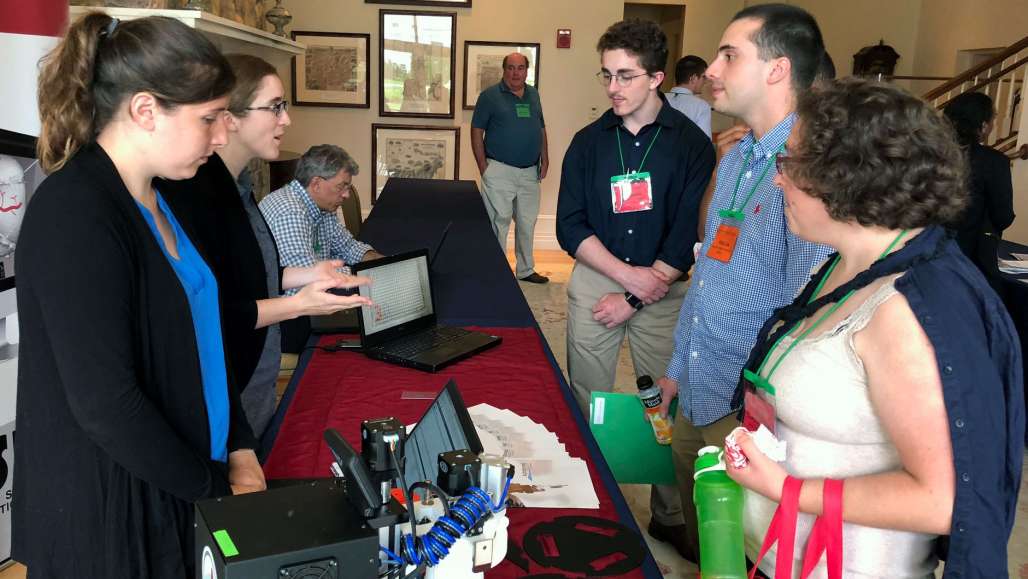 Keene State students presented their biomedical research and networked with students from other colleges and universities during an annual meeting held by NH-INBRE (the New Hampshire IDeA Network of Biological Research Excellence). NH-INBRE is funded by the National Institutes of Health to support undergraduate biomedical research.
This year's annual meeting focused on the important topic of workforce development. NH-INBRE partner institutions are Keene State College, Dartmouth College, University of New Hampshire, Colby-Sawyer College, Community College System of New Hampshire (CCSNH), Franklin Pierce University, New England College, Plymouth State University, and Saint Anselm College. Keene State had the largest number of participants out of the nine schools, with 25 students and 17 faculty and staff present.
A key part of the meeting is for students to introduce their research to peers and colleagues. Two Keene State students were chosen to give oral presentations: Allie Tolles spoke about her work on stem cell differentiation in planarians and Alexandra Sholtes presented on her research in two INBRE-supported psychology labs involving language, mood, and autism. Eighteen posters were presented by Keene State student researchers during two poster sessions. During the faculty presentation session, psychology professor Dr. Harlan Fichtenholtz gave a talk entitled "Spatial Learning: A Novel Approach to Assessing Attentional Biases after Trauma Exposure."
Students in New Hampshire have tremendous opportunity as the state grows its life sciences business sector. During the meeting, students were introduced to potential opportunities through a panel of former NH-INBRE student researchers who spoke about their experiences working in the private sector. Career opportunities were shared as several New England-based biotech businesses spoke with students and faculty about their companies and job openings.
NH-INBRE is a statewide initiative led by the Geisel School of Medicine at Dartmouth College and the University of New Hampshire to develop a coordinated network of biomedical research and training. It aims to stimulate science and research culture on campus, develop biomedical research infrastructure, create research opportunities for students and faculty, and advance bioinformatics research activities. It supports research in human health, neurobiology and behavior, molecular and cellular biology, and microbial pathogenesis. The NH-INBRE program at Keene State supports research through providing student employment, travel, research supplies, equipment, and other research-related needs.
NH-INBRE is supported by an Institutional Development Award (IDeA), P20GM103506, from the National Institute of General Medical Sciences of the NIH.
Related Stories