Coaching Job Takes Alumnus to Olympics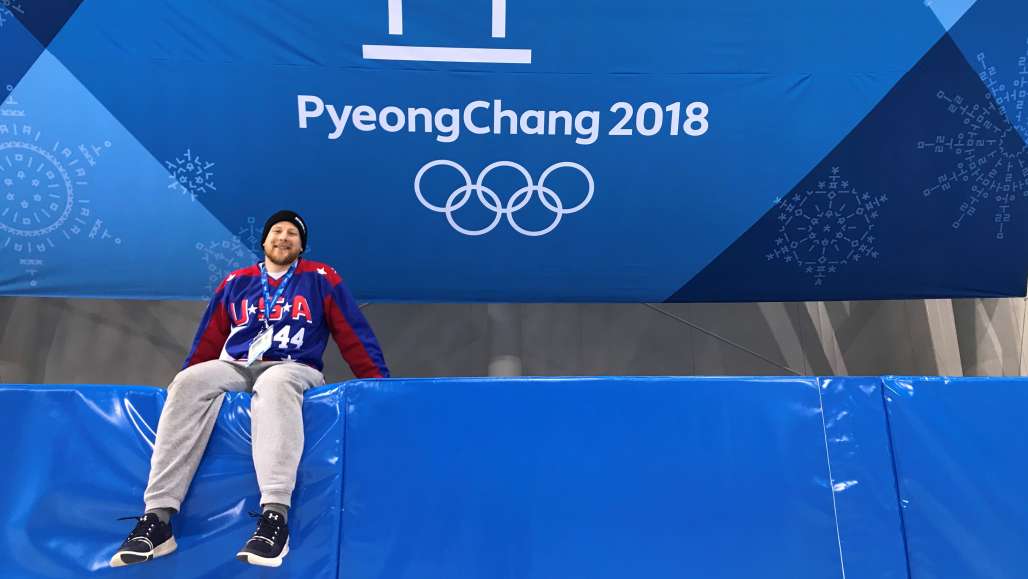 After four years of working with US Speedskating, Tyler Dabrowski '13 had been on hand for a number of world cups in both European and Asian countries. Still, accompanying the national team to the 2018 Olympics in South Korea wasn't exactly just another day – or, rather, month – at the office.
"It was truly a great experience," says Dabrowski, who, as strength and conditioning coach for the team, walked alongside the athletes in the opening and closing ceremonies in Pyeongchang Olympic Stadium. "I don't know that I'll have many things in my life that will compare with that," he says.
The US skaters picked up two medals at the Olympic Games – a Silver in the men's 1,000-meter short track and a Bronze for the women in team pursuit. Dabrowski was on hand at Gangneung Ice Arena for the winning races, and watched the athletes do a victory lap carrying the American flag. The skaters work so hard, he notes, in a sport where everything is focused on a competition that comes only once every four years. That made it especially gratifying to see them win medals.
Beyond that, just being at the Games was special in and of itself. Dabrowski lived in the Olympic Village and had the chance to sample some of the other sports – including seeing the Gold-medal winning US women in an ice hockey match – and to partake of South Korean hospitality.
A health science/exercise science major at Keene State who is currently working on a master's in sport coaching, Dabrowski is responsible for about 60 athletes who make up the three developmental teams and three national teams that train at US Speedskating's Salt Lake City facility. He works with the athletes in the weight room and on warm-ups, and works with coaches and physical trainers on structuring individual workout and rehab programs for skaters.
"When I was younger, I played a lot of different sports," he says, "mainly soccer and basketball, and then I injured my back when I was 14 and I wasn't able to try out for the basketball team because of the injury. So I started weightlifting, and I saw all the positive results from it. Going into my freshman year in high school, I got hooked on it. I really enjoyed it, how it gave me confidence, and how much it helped with my rehabilitation. I played varsity as a freshman on the soccer team, and I saw that I was able to compete with the juniors and seniors just because I spent so much time weightlifting and training."
His desire to continue to improve, mentally and physically, and to help others do so as well led him to his health science major and then his career – four years with US Speedskating that landed him at the Olympic games. "Growing up, I never would have imagined being part of that," he says. "To be able to go as a coach with these athletes is something I am really thankful for."
Related Stories