A Passion for Karate and an International Win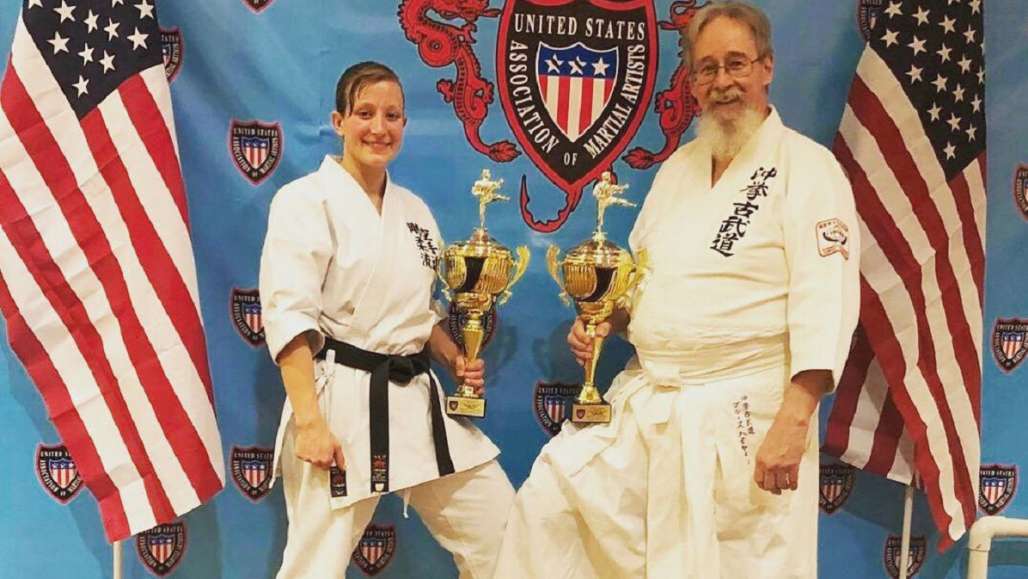 Amelia Gallup '16 is no stranger to winning martial arts tournaments – she's won the top spot in five regional competitions. But when she went to New Mexico to compete in the United States Association of Martial Arts Grand Internationals tournament, she was just hoping to put in a good showing. Instead, she ended up becoming the first woman in 20 years to win the grand championship – an award given to the top scorer in the tournament.
Gallup has incorporated karate into her daily routine as a way of giving back to her community, de-stressing, and creating lasting relationships with other martial artists.
An EMT and volunteer firefighter, she also teaches karate in Sunapee, New Hampshire. "I like to joke that sometimes there's a child hanging off each limb, but I wouldn't have continued doing it if it wasn't fun," she says. "We're very careful about teaching the kids the safe way to do things and be respectful, but we also try to make things as fun as possible," she says.
Gallup has been studying karate since she was a child; she says the "fun" aspect was what attracted her originally. When she came to Keene State, where she majored in film studies and minored in safety and occupational health applied sciences, she began to seriously consider competing, and started in the tournament circuit.
"It's what I do. I started karate when I was six and got my adult black belt when I was 16. I've always trained in the martial arts," she says. "Anytime I have a bad day I can come home and train or go work with the kids, because they will require all my attention. It's a passion of mine, so anytime I'm practicing it, I'm happy."
Practicing karate and competing in a tournament, however, are two completely different beasts.
A tournament is not like a fight, she notes. "You're not kicking and punching someone. I present a form or a preset arrangement of movements. In the final round, I used partners to demonstrate the application of those movements to show that I knew what I was doing."
Gallup had prepared for the Grand International tournament diligently for three months, and went in hoping for the best but expecting nothing.
"I think mindset is important, being able to find that sweet spot of being nervous but also relaxed and focused on the task. I'm just there to present what I do, and hopefully it's clear how hard I've worked," she says.
When all was said and done, Gallup placed at the top of a list of over 200 international competitors, both male and female and from every age bracket.
"They told me that I was the first woman to win at the tournament in 20 years, which gives me chills to think about," she says.
Even when at a tournament, Gallup is able to find ways to make relationships with her fellow competitors. Some even assisted her in later rounds after she defeated them.
"I went out to New Mexico knowing maybe two people, and by the time I left I had met all these awesome people, and made some really great friends," she says.
Related Stories