Improvisational Students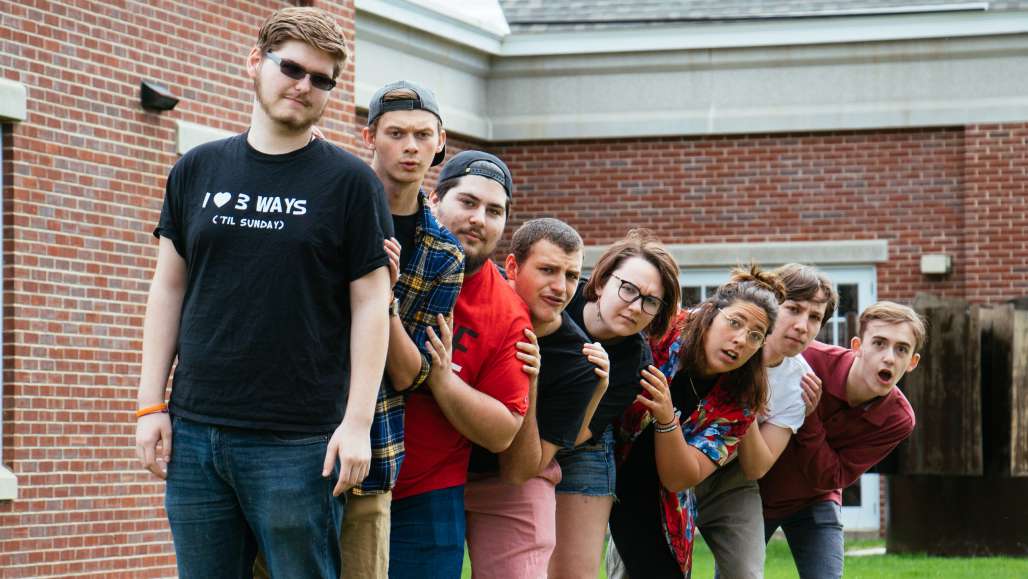 It's one thing to be funny in conversation and another to perform funny material. But being funny off the top of your head while on stage? That's something completely different.
"We are constantly figuring it out as we go," says Dominique Pascoal, president of 3 Ways 'Til Sunday, a student improv group at Keene State. "We never know exactly how a show is going to go, but if the energy is there everyone helps each other out and there are a lot of laughs."
Pascoal, a theatre major who graduated in May, says improv is a great way for actors to hone their craft. It forces them to think on their feet, act fast, and get immediate audience feedback.
Improvisation is collaborative creation. Pascoal notes that actors who walk into a performance thinking they're going to make jokes on their own, and just throw out funny one-liners, are actually failing their scene partners. To keep things funny, the members of 3 Ways 'Til Sunday make an effort to leave their dialogue open ended, so they can feed off of each other. "It's the difference between being a solo artist and being in a barbershop quartet," she says. "You are working with each other to create a more visceral piece of art."
3 Ways 'Til Sunday members practice weekly and perform in residence halls. Most are theatre majors, but that's not a requirement. The group also includes an education major and a psychology major. They typically start off a show by asking the audience to suggest a word or phrase. That prompts one actor to step forward and offer a funny monologue. Then the others jump in and turn it into a skit.
Take, for instance, the time when someone shouted out the word "pineapple." Pascoal did a quick scan of her pineapple-related memories, and came up with one. "I got up and talked about a time I was at a high school party and jumped on my friend's back," she remembers. "When I fell off, I felt a sharp cut on my neck. I looked up I saw she was holding a pineapple can with the lid hanging off." Since the monologue had plenty of detail, it was easy for the other members to contribute to the scene, pretending they were hosts of the party.
"It's easy to take life too seriously," says Pascoal. "We all do it. It's not so easy to take a step back and just look at it for what it is, and laugh. We stick to humor because humor helps us heal. It helps us to realize that it's not all bad, that there is always room for laughter."
– Liana D'Attilio '18
Liana D'Attilio interned for Keene State's Marketing and Communications Department during her final semester before graduating in May.*
Related Stories