Student Earns Scholarship from Red River Computer through KSC Partnership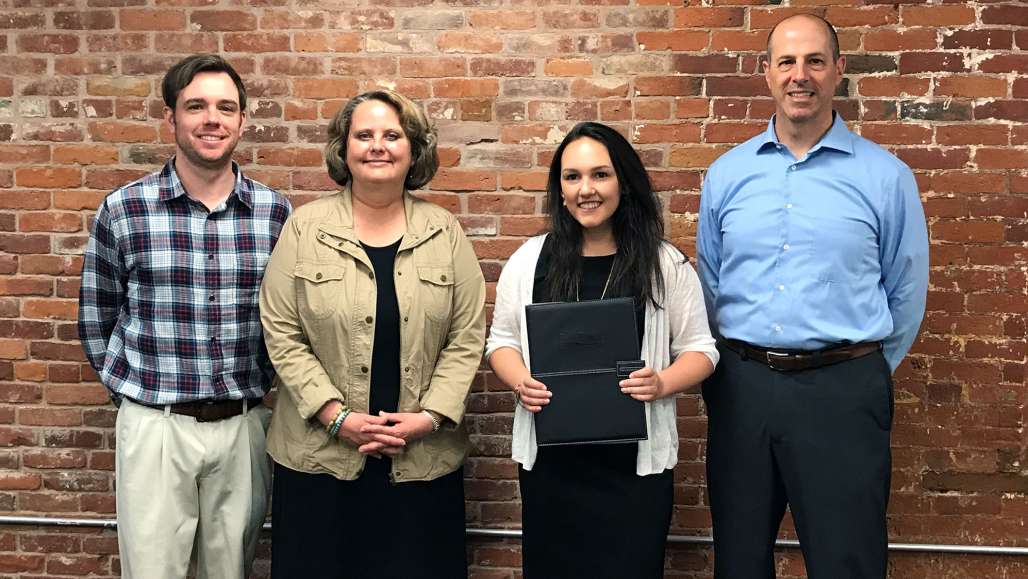 Keene State works with businesses to develop new scholarships and work opportunities for students. Recently, Red River Computer Company, a technology integration company based in Claremont, NH, introduced a scholarship in their name. Courtney Jessup, a management major graduating this December, is the first to receive the award.
The scholarship builds upon Keene State College's relationship with the company, a major employer in New Hampshire. The mutually beneficial partnership developed over the past few years provides real-world experience for students through paid internships and gives Red River the chance to build relationships with those students.
"Keene State works collaboratively with businesses to create opportunities for students, the college, and the employers," said Daniel Henderson, director of corporate partnerships and strategic initiatives at Keene State. "Companies need reliable sources of talent as their businesses grow, technologies change, new opportunities arise, and as their existing workforce retires."
As part of the $1,500 award, the recipient must meet GPA requirements, be a resident of New Hampshire, and be eligible for financial aid. The student must also have taken Management 490, a course sponsored by Red River focused on professional sales.
"Through a collaborative agreement with Red River, Keene State was able to hire an adjunct instructor with deep experience to teach a course in professional sales and negotiation last spring to Keene State students," continued Daniel. "Our relationship with Red River and other partner employer organizations around New Hampshire and the region create unique opportunities for our students personal and professional development."
This partnership with Red River Computer Company is just the latest example of the advantages of getting to know businesses in the region. Through these strategic collaborations, students gain real-world skills in the workplace while in school, that are often leveraged into full-time positions upon graduation.
Related Stories