40 Things for Students To Do Before Graduating from Keene State College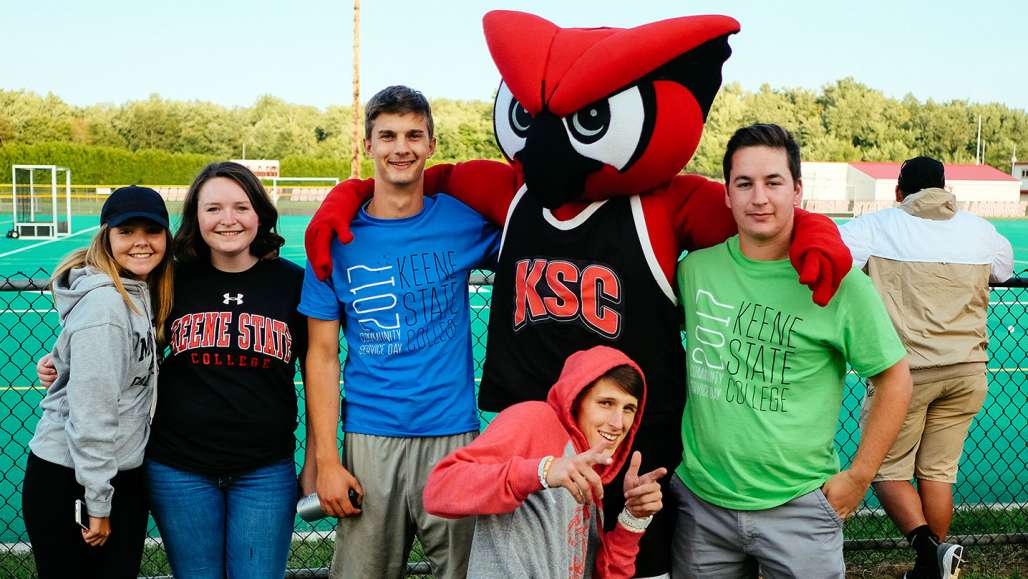 We've pulled together some things that should make students' to-do lists while at Keene State. There is so much to experience during four years of learning and living at Keene State, so students, alumni, and parents, take a look and share your moments on social media with us using the hashtag #KSC40things!
Manage your time. There are so many opportunities as a Keene State student – you'll want to get good at this to fit it all in.
Volunteer. Keene State has a long tradition of service – how will you participate in it?
Take a class in something you never heard of before.
Play bingo in the Night Owl Café.
Listen. Dozens of guest speakers and presenters come to campus every year on dozens of topics.
Check out a Green Bike from the Mason Library and go for a ride on the rail trails.
Do an internship. Faculty and staff can support you in crossing this important bridge to your career; it's a great way to get on-the-job training outside the classroom.
Meet the next President of the United States. New Hampshire's first-in-the-nation primary means that many presidential candidates come through Keene.
Celebrate the end of the year at Spring Carnival. A great way to relax before finals, there are amusement rides, food, games, and more!
Present at the Academic Excellence Conference. This annual conference showcases the best of Keene State student research.
Watch Keene State take on rival Plymouth State University, in any sport, in any season.
Get a show on WKNH. When you're 50, you'll still be talking about how you had a radio show in college – and your friends will still be impressed.
Take an arboretum tour of campus. So. Many. Cool. Trees.
Go to Winter Celebration. It's the most wonderful time of the year in the Student Center, and a great break at the end of the semester. Folks from all over campus come together in a flurry of games, crafts, chocolate fountain, and stress relievers.
Find your causes. Are you passionate about the environment? LGBTQ rights? What's in the vending machines? There's no better time to get active.
Visit every store and restaurant on what locals claim is the widest Main Street in America (it is pretty wide and campus is right on it).
Go away. Whether you take an on-campus class with an international component, take an alternative break, or spend a whole semester studying in another country, make seeing the world beyond campus part of your Keene State experience.
Read a book by your professor. A few to start with: The Chemical Story of Olive Oil coauthored by Rich Blatchly, Confronting Evil: Engaging Our Responsibility to Prevent Genocide by Jim Waller, and The Last Goodbye by Yuan Pan.
Take a group fitness class at the Recreation Center. Your Rec Center membership is paid for by your fees – whether you're into yoga or Zumba or just ready to try something new, you'll find your people there.
Enjoy a frozen treat at the Walpole Creamery downtown.
Run, cheer for, or volunteer at the Clarence DeMar Marathon. This annual fall marathon (a Boston Marathon qualifying race) and half-marathon, which ends on campus, is named for a former Keene State faculty member and Boston winner.
See a show at the Redfern Arts Center.
Climb Mount Monadnock. The most-climbed mountain in the United States is in our own back yard. If you can, time your hike so you'll be at the summit for a sunrise or sunset.
Check out the exhibits and artist talks at the Thorne-Sagendorph Art Gallery and Carrol House Gallery.
Attend a Study Night. It's a quiet, focused place to get things done, and the snacks are great.
Have a Sizzler. It's lunch… but it's so much more than that!
Hit the big city. Keene State is about two hours from Boston, four hours from New York, and four hours from Montreal.
Learn the words to the school alma mater song, "Lift Voices High."
Take advantage of the Center for Writing and the Math Center. No matter how good you already are or how much help you need, they can help you kick it up a notch.
See what your classmates are creating (and get inspired yourself) by attending student presentations, performances, recitals, film screenings, and exhibitions.
Take a picture of yourself with the arch over the Appian Gateway. Jump through it, hug your mom under it, beam proudly. Better yet, get one before you start and one the day you graduate.
Vote. Keene State students are more engaged, on average, in campus, local, and state issues.
Make something at Crafternoon in the Office of Multicultural Student Support and Success.
Go to Solar Fest. Solar-powered music festival with vendors and giveaways that are all about sustainability – what's not to love?
Get a picture with Hootie. Astute bird-watchers will see Keene State's mascot pop up here and there – and always camera-ready.
Enjoy regional cuisine and ingredients at Localvore Lunch. There's a reason this is the most popular meal of the year!
Work. Getting a job on or off campus can not only help you pay your way, it also gives you a leg up in getting jobs after graduation.
A campus as old as Keene State has to have at least one ghost… ask around for the story about Harriet haunting the attic in Huntress.
Take in the Monadnock International Film Festival (or MonIFF). This film festival takes over Keene for a weekend in April, with screens around town and on-campus showing shorts and feature-length films from around the world.
Get some rest. This might be the hardest one to achieve – but trust us, you'll want to make it a priority.
Related Stories