Scholarship Winner at Home in the Classroom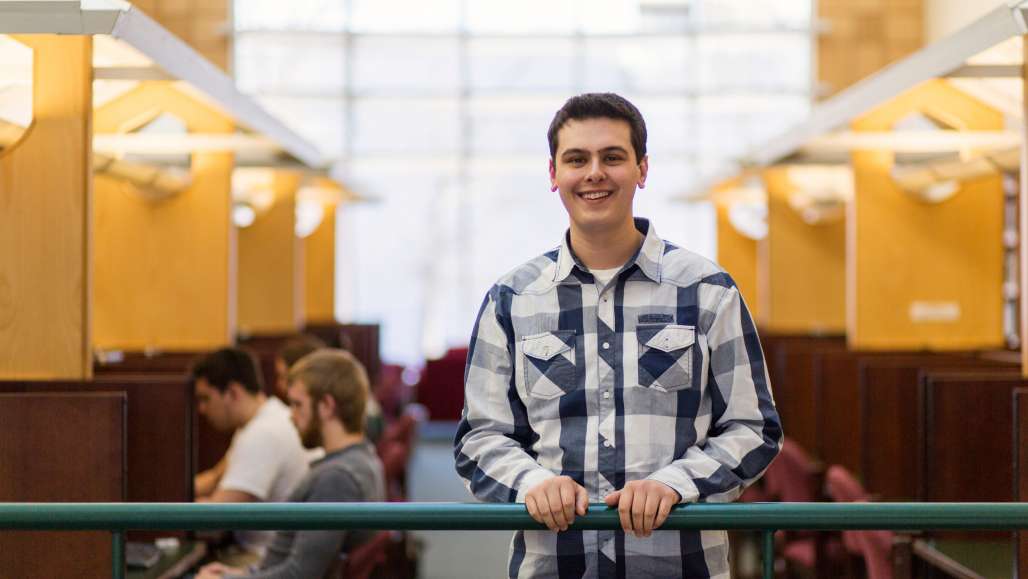 Meet Nick Yialiades, a rising senior at Keene State, who is already achieving his goal of sharing his passion for his two favorite subjects with young students. Nick, who is pursuing dual certification in secondary English and social studies, finished out the academic year as a long-term substitute for a teacher on maternity leave at Brattleboro (Vermont) Area Middle School.
"I thought for a long time that high school was what I wanted to teach," says Nick, "but I have found myself really enjoying this long-term position in middle school, so I think I would be happy teaching either!"
Nick has another reason to be happy: he recently received the Irene W. Hart Memorial Award from the New Hampshire Retired Educator Association. As part of the award, named for a longtime high school English teacher, Nick picked up a $1,500 scholarship.
Dr. Chris Parsons, director of Secondary English Education, has this to say about Nick: "Nick is a wonderful student and an especially promising beginning teacher. In all his work, Nick is thoughtful, engaged, and empathetic. While these qualities serve him well at Keene State, his future middle and/or high school students will be the eventual winners. I can't wait to see Mr. Yialiades in his own classroom."
In the essay he submitted to the scholarship committee, Nick, who hails from Hinsdale, New Hampshire, wrote that a summer school tutoring job that turned into a position teaching several classes last year was initially scary and overwhelming – but he soon found he didn't want the summer to end.
"Since then," he wrote, "I've never looked back. I have found that teaching others not only allows me the opportunity to share my passion for the humanities disciplines, but it does so in a way that is equally challenging and rewarding. I continue to grow as an educator not only through my course work at Keene State College, but also through the hands-on experiences that I have gathered working as a substitute teacher in two local school districts and continued work with the summer school program where my journey began. I have developed an appreciation for the many hats that teachers wear every day, and am honored to be able to join the ranks of a field of professionals dedicated to helping to shape our future generations one student at a time."
Related Stories