Professor Patrick Dolenc Wins 2018 Faculty Distinguished Service Award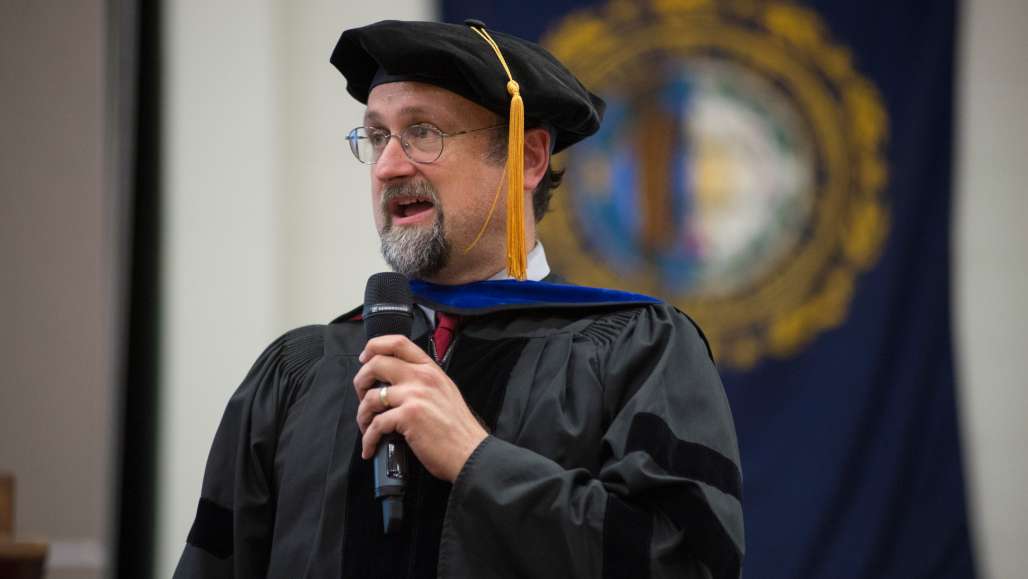 Dr. Patrick Dolenc, an economics professor who is noted for excellence in teaching and for engaging his students in active citizenship, has received Keene State College's 2018 Faculty Distinguished Service Award.
Dr. Dolenc is responsible for bringing to Keene State the American Democracy Project, a national initiative focused on preparing college students to become the next generation of informed, engaged citizens. The project, which has a network of 250 public colleges and universities, "is about giving students the tools they need to make a difference in the world," he has said.
Keene State's Distinguished Teacher of the Year for 2013, Dr. Dolenc was lauded at the May awards ceremony for outstanding teaching, mentorship, service, and scholarship, which are characterized by his personal involvement, innovation, integration, and civic engagement in the community.
From the awards program:
"Dr. Dolenc has, in his role as teacher, mentor, scholar and community leader, shown repeatedly the desire and ability to synthesize education, training and experiences from diverse disciplines to teach and create tangible, effective "real world" solutions and empower his students to believe in themselves. Dr. Dolenc provides us with an exemplary model of the powerful synergy of service, teaching and mentoring.
"Through his work with the American Democracy Project, Dr. Dolenc led curricular and co-curricular efforts to infuse civic engagement into academic programs and college-wide strategic initiatives. Nationally, he has led an ADP initiative on Economic Inequality, which includes a blended learning course that will be shared broadly, and he has helped coordinate a network of regional student policy summits.
"Locally, this initiative has focused on implementing a "Living-Wage" in conjunction with Healthy Monadnock 2020. He also is a charter member of the board of directors for the Keene Housing Kids Collaborative, a local non-profit that seeks to end the cycle of poverty for children in public housing. In just a few short years, he assisted the Executive Director of KHKC in fostering a range of ties to Keene State students, staff, and faculty. He also coordinates a longitudinal study to determine the impact of the KHKC programs.
"Dr. Dolenc has served in a wide range of ways: on the General Education Task Force, on the College Senate, as co-chair of the 2013 Symposium and the 2014 committee that established College-Wide Learning Outcomes, as chair of the College-Wide Learning Outcomes Steering Committee, and as co-leader of the Civic Engagement Outcome. Recently, Dr. Dolenc agreed to co-chair the 2020 NEASC Steering Committee. He has served as chair of his department, coordinator of the interdisciplinary social science major, and developed several new programs for the campus."
Related Stories