Honors Students Immerse Themselves in Ecuadorian Culture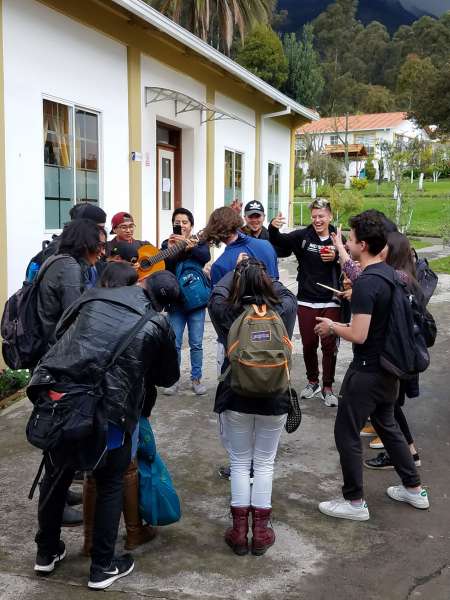 There is no better way to change your perceptions and learn a new culture than to fully immerse yourself in it. Eleven Keene State honors students traveled to Ecuador as part of their coursework to learn first-hand about global communities. Some students were able to afford the trip with the help of the August Morris fund. For one student, it was her first trip on an airplane.
The students first visited the capital of Quito, then traveled to more rural Otavalo. There they met new people and listened to music performed by college students from Universidad de Los Hemisferios (University of the Hemispheres), while taking in the cultural, ceremonial, and geographic characteristics of the region.
"I learned a lot from the conversations we had with students from Universidad de Los Hemisferios, including how they perceive Americans. The students explained that people aren't different – it doesn't matter where they are from – the thing that changes us is the culture," said James Tinney, a Keene State junior studying athletic training.
"Some local students made a circle, playing guitar music and dancing, and they invited us to join them. Our Keene State group joined the circle, and we danced and sang with the Ecuadorean students. This is one of the only times in my life when I've felt a cultural divide evaporate into thin air. People joined together without considering each other's backgrounds."
Students gained a new understanding about the need to remain open to people from other cultures, and the importance of learning another language. "This has really been life-changing, and it made me more passionate about continuing to learn Spanish," said Nicole Wood, a Keene State junior with a double major in women and gender studies and geography, and a minor in international studies.
Professor of Music, Dr. José Manuel Lezcano, is a musician who performs around the world. He created a vision for the course, and is instrumental in pulling the trip together feach year. "The course and trip build on valuable lessons that are learned in the classroom. The transformation in some of our students because of this immersive international experience is tremendous – it's critically important that we provide this opportunity to our students," said Dr. Lezcano.
"This course is important for our students to gain a deeper understanding of different cultures. I've seen our students change for the better after they come home from our global engagement trips, time and again. It is an honor to share these experiences with our amazing students, knowing that it will make a difference in their lives for years to come," said Dr. Skye Stephenson, Keene State director of global education and professor for the global engagement course.
Related Stories