Finding Friends, Mentors, and 'Wonderful Opportunities'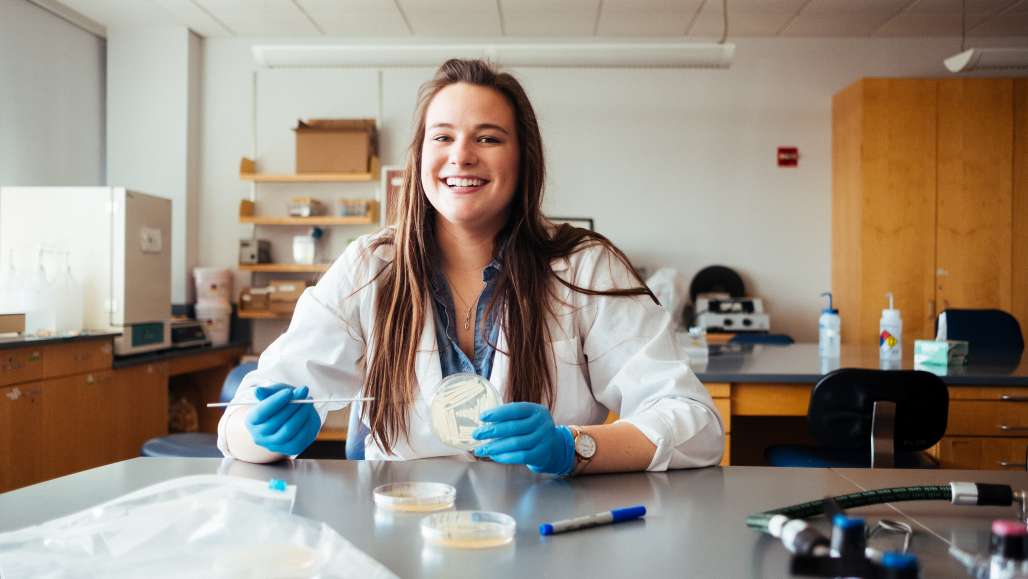 Pairing biology and secondary educations majors has added an extra layer to engaging in science studies for rising senior Rachel Graves. With plans to teach high school biology, she has to do more than just understand the coursework herself; she has to be able to explain it in a way that anyone, and in particular, high school students, can easily understand.
She's had a chance to shadow a biology teacher at nearby Monadnock Regional High School, and next spring she'll be doing her student teaching, putting what's she's learned into effect and getting hands-on practice.
"I always knew I wanted to teach," says the Wilton, New Hampshire, resident, and I was pretty good at biology, so I started focusing on that my freshman year. It ended up being a really good match."
Graves chose Keene State because of the reputation of its Education Department. "A lot of my high school teachers had gone to Keene State," she says, "and they said, 'You know, you really ought to go there if you want to teach.'"
She's found plenty of support among her biology professors as well, and is an undergraduate researcher in Associate Professor Cynthia Hays's Marine Population Genetics and Phycology Lab. The research has involved summer work at the Shoals Marine Lab off the coast of Portsmouth as well as lab work to explore the population genetics of Zostera Marina, a seagrass.
At Keene State's spring Academic Excellence Conference, Graves presented a talk, titled "Who's Your Daddy?" on the research, which looks at patterns of fertilization among Zostera Marina shoots.
"I really like working in the lab," she says. Last summer, through a grant from the College's BEST – Building Excellence in Science and Technology – program, she was paid as a full-time undergraduate researcher. She also serves as a PCA, or peer course assistant, for BEST.
Graves has branched outside of the Biology and Education departments, too. She serves as concert coordinator for the Social Activities Council. "We hire bands to come and perform on campus," she says. "We do a lot of work putting on all sorts of events, programs, fun activities for the students on campus. We plan concerts, Rocktoberfest, and coffee houses." It all makes for a full schedule and a lot of satisfaction, she adds.
"I definitely feel like I belong at Keene State," Graves says. "I've found so many friends, and professors who are great mentors, and people who really want to help me succeed. I've had wonderful opportunities here at Keene State."
Related Stories