Music Program Strikes a Chord for Trumpet-Playing Senior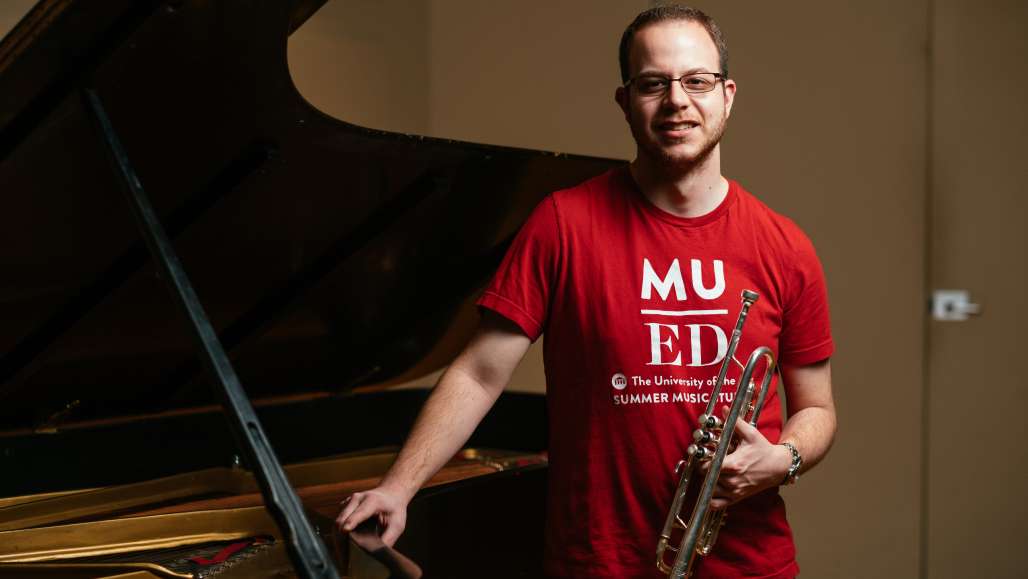 Over the last four years, Keene State music performance major Joe Conti has had the chance to perform both on stage and in the classroom.
Behind every performance there's practice and dedication. Conti says the path he chose was not always an easy one – it's required copious amounts of hard work. Conti says it's been worth it.
"Keene State has definitely shaped my career and changed my life for sure," Conti said. "I'm not the same person leaving here as I was coming in."
Keene State Music Professor Dr. Jim Chesebrough scouted out Conti when he was a student at Londonderry High. Conti entered Keene State's Music Department as a music education major when he was first accepted to the College.
Conti made the decision to switch from music education to a major in music performance when he realized he wanted to teach at the university level. He is heading to Appalachian State University in Boone, North Carolina, where he will work toward a master of music in wind conducting and will serve as graduate assistant of bands.
A trumpet specialist, he is currently a member of the National Association for Music Education and the American Choral Directors Association. On top of that, he is also part of two professional bands – the Keene Jazz Orchestra and the Vermont Jazz Center Big Band. "I've been very lucky to play with a lot of awesome musicians and artists over the past few years," Conti said. "If I decide to come back to the area I'll always have a home."
Though this Owl is about to leave the nest, he said Keene State has prepared him for his future.
"There are a lot of opportunities to take advantage of, but the cool thing is because we're small you get to do it all. So I got to play in every sort of ensemble I could imagine," Conti said. Through Keene State's Music Department, he has been able to work professionally in his field at the same time as studying it.
He is frequently asked to perform with musical groups, and he also reaches out to groups he'd like to perform with. "That's a huge part of learning how to work with ensembles, with different directors, and be professional," Conti said.
It's been a successful four years at Keene State for Conti, and, as he described it, a perfect fit. Though there is healthy level of competitiveness at the College, there is also a lot of support, Conti said.
"We all want to be the best and we all want each other to be the best that we can be. I carry that attitude with me through everything I do," he said. "I want other people to do as well, if not better, than I'm doing, so I think that's where Keene State and I really fit in together."
– Grace Pecci '18
Related Stories