Paul Beling: In the Classroom and on the Field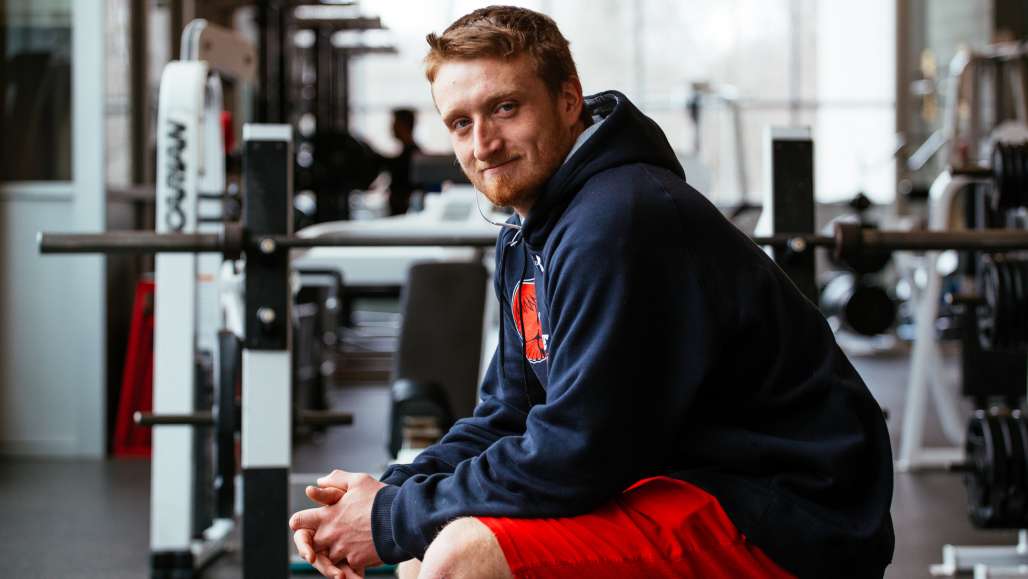 Whether he's hurling a lacrosse ball down the field or creating lesson plans for the classroom, Keene State senior Paul Beling is at the top of his game.
Beling entered Keene State as an environmental studies major. He figured he would have connections in the field, as both of his parents are environmentalists; however, after working as a summer camp counselor he realized he would prefer a career working with children.
His passion for working with kids led him to change majors to elementary education and history. Beling says Keene State has prepared him well for his career, especially through his student-teaching internships. "There's a lot you can learn in the classroom, but you can't really model the job," Beling said. Over his years at Keene State, Beling completed three internships at three different elementary school, including Symonds Elementary School, Winchester School, and Wheelock Elementary School, where he also completed his required student teaching semester.
Being a student teacher is no easy task – it requires long hours both inside and outside of the classroom, multiple days a week. And being on a sports team at Keene State can require just as many hours. Beling has had to find a balance, but said that ultimately juggling sports and academics taught him to be more disciplined. For instance, when he took a Methods course last year, he spent three days a week in an elementary school classroom and then headed directly to lacrosse practice. "The biggest thing that it taught me," Beling said, "was to make sure I don't waste my free time."
Luckily, Beling completed his student teaching this year in the fall and has been able to give lacrosse his all for his last season. Beling has played on Keene State's lacrosse team since his freshman year. Currently he holds an offensive midfielder position. Beling has put in a lot of work toward lacrosse, and has benefited from its rewards. "The thing that I like the most is the bond you create with a lot of the kids on the team. I know I wouldn't have met a lot of them if I didn't play lacrosse," Beling said. "You share that goal that you really want to win together and be together on the field. That's been a cool experience for sure."
Beling hopes one day to take his love of teaching and love of sports and combine them through coaching in his spare time. As a teacher, he especially likes working with second- and third-graders; as a coach he's interested in any age level through high school.
He said he wants to stay connected with Keene State because of its friendly environment. "You always get waves and smiles walking by," he said.
Beling, who will start his career with a summer job teaching third- and fourth-grade math at the Carroll School in Lincoln, Massachusetts, said he recommends Keene State to anyone who is interested in education. "I can speak that the program is solid," Beling said. "If education is something you're thinking about, then I would give it a shot or at least check out the college. The majority of the people I know here have had a good experience."
– Grace Pecci '18
Related Stories