Alumnus Founds Adaptive Fly Fishing Nonprofit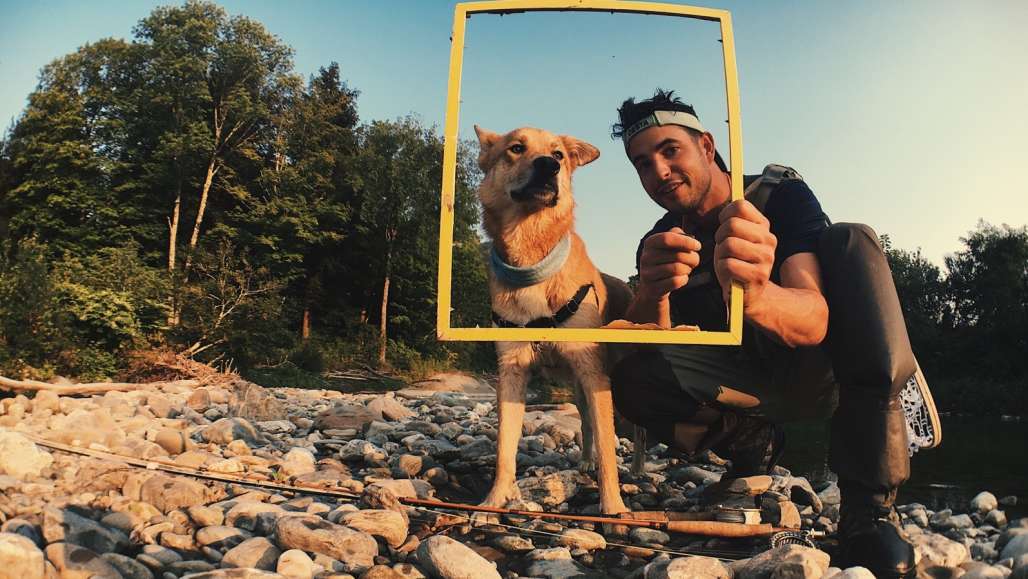 Fly fishing has long been a passion for Burlington, Vermont, resident Mike Abbot '12, but ever since his fishing buddy was badly injured in a skiing accident a little more than a year ago, he's got a new passion: helping people with physical and cognitive challenges to go … you guessed it … fly fishing.
"Last summer, as my friend rehabbed, I started looking into ways that I could help him get back out onto the water," says Abbott, "to restore some of that normalcy into his life and give him something positive to hold on to."
Abbott's desire to help his friend, Ryan McClaren, who is paralyzed below the knees, grew into something larger: an organization with a mission of providing adaptive fly fishing services to people living with disabilities. Tasty Water Adventures achieved nonprofit status last fall. McClaren is on its board, and Abbott is raising funds for an adaptive watercraft and other adaptive equipment. In five months, he's landed $15,000 in donations.
"Fly fishing is super hard," says Abbott, a biology major at Keene State who has been working as a high school behavioral interventionist while finishing up his master's degree and teaching credentials. "That's why I enjoy it. There are so many things you have to think about – your position in the water, how the water is moving, where the fish are going to be, what time of day it is, what time of year it is. There are just so many different pieces and it's a game of cat and mouse. Most of the time the fish win."
Getting to the best fly-fishing spots can be tricky, too, he says. While there are some accessible fishing platforms along Lake Champlain, they tend to be overfished. Some people who fly fish hike extensive distances along the lake's tributaries, where native trout can be found. That's the kind of experience Abbott hopes to provide.
Doing so will take more funding, adaptive equipment, and ingenuity. The organization is working with a local sailing center that offers adaptive sailing to get a sense of what they might need, but in the end Abbott and the board members and volunteers will create equipment for each individual client. The idea is to provide the least restrictive environment, and to bring, or restore, fly fishing into the lives of people with disabilities.
"We don't want this to be a one-and-done deal, like a one-time charter trip," Abbott says. "We want clients to come back to us, we want to take them from wherever they are and get them to a point where they can go out and do this on their own or with supervision."
To meet his organization's mission of "providing access, promoting inclusivity, and creating joy through fishing and the outdoors for those living with a life altering injury or disability," and to do it without charge to clients, Abbott is working to recruit volunteers and interns and to "put all the pieces together," like acquiring liability insurance. Down the road, he hopes to create partnerships with private landowners and the Vermont state government to create access points.
He's also looking for clients. Anyone who would like to take advantage of Tasty Water Adventure's services, or who know someone who would, can find contact information on the organization's website.
Related Stories