Applying Classroom Lessons to Fight Discrimination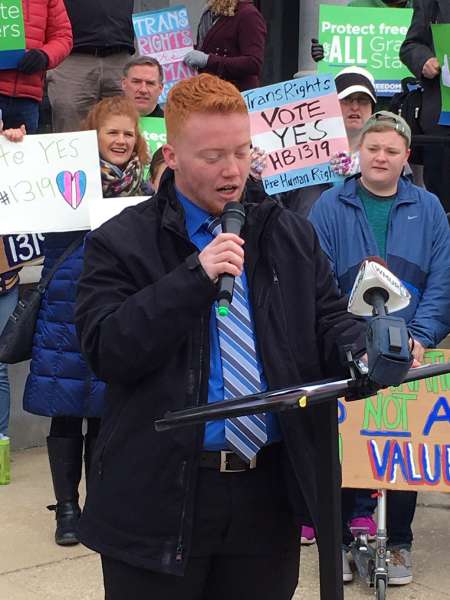 Liam Magan, 2016 Keene State alumnus, found a direct connection between his Holocaust and Genocide Studies major and his personal passion to stand up for transgender people. In March 2018, Magan testified in support of New Hampshire House Bill 1319 that prohibits discrimination based on gender identity. Magan has had his own personal experience with discrimination, and he draws parallels between being defined as an "other" based on his gender identity and what he learned in his studies.
The bill passed on March 7, 2018 by a margin of 66 votes and was sent on to the New Hampshire Senate, where it is currently expected to pass and be signed into law by the governor. The bill was initially championed by Freedom New Hampshire, a non-partisan group advocating for transgender rights in the state, which was where Magan first became involved. Freedom New Hampshire hosts panels in the state called "Ask A Trans Person Anything". The first of the panels was hosted in Epsom, NH, Magan's hometown.
"After that first panel, I did a few more and thought it was really cool. They asked me to write a statement for the statehouse hearing on the trans bill. I was happy to do that, because I faced discrimination two years ago and I realized there was nothing legal that I could do. I recognized that there were people facing similar or worse situations."
His first foray into the topic of transgender culture came in the Human Sexuality class he took at Keene State. "That was a class where we really dove into gender. I took that class right when I was coming out and my big presentation for the class was on transgender topics. It was my first time speaking about it in public," he said. "I had been questioning it for so long and then we did the unit on it and I decided it was time to come out. That class was really pivotal for me."
Presenting his statement to the House, Magan understood that it was just one step toward understanding and equality. "My statement summed up my story of discrimination, and I urged lawmakers to pass the bill to give transgender people something to stand on. It's not going to end discrimination, but it's a start."
Magan believes that personal stories helped to reverse the initial vote for HB 1319. "I think getting to hear personal stories changed the outcome. Having many people in the trans community tell their stories puts a face to the issue. The point of doing the 'Ask A Trans Person Anything' panels was to break the barrier between 'us' and 'them'. It humanizes everyone and removes the separation between us."
Related Stories