Art and Travel Inspire Pakistani Student Studying Abroad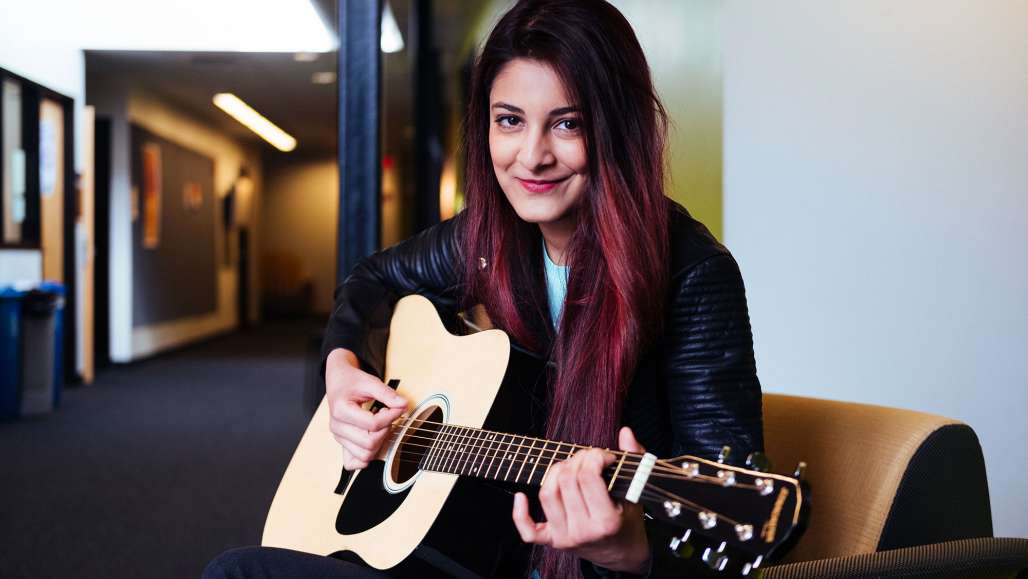 Meet Maham Waqar, an international exchange student from Pakistan studying at Keene State this semester. She's a junior at Beaconhouse National University in Lahore majoring in film studies.
"I'm the first in my family to major in the arts," she shares. "Women in Pakistan are encouraged to do medicine or engineering, so I'm doing something out of the ordinary."
Studying film was a natural choice for Waqar, who has enjoyed watching movies from an early age. "I love films, especially thrillers and mysteries. My favorite is Shutter Island."
Waqar is taking two film courses at Keene State: Film Analysis and Robot Stories, which features movies with cyborgs. Her passion for the arts extends into music. She is an avid singer and her class schedule also includes History of Rock and Roll and Guitar.
Her desire to study abroad stems from an interest in traveling. "I want to see the US. I wanted to travel and learn what living here feels like and experience the culture," says Waqar, who has already visited Boston and New York, and is spending spring break in Las Vegas, Los Angeles, and Florida.
So far, the biggest differences between the United States and Pakistan are safety and freedom. "In Pakistan, your parents are always asking where you are going and who you are going with," Waqar says. "There is more security here. There is also more freedom—freedom of expression and opinions. I like these two things about the US."
Overall, it's a whole new experience. "If I were in Lahore, I would never know about life here, or know about different perspectives, cultures, traditions, or food," Waqar adds. "I believe everyone should experience new things."
That goes double for the cuisine. Waqar likes sampling American food, but still thinks Pakistani food is better, and wishes Keene State students could taste Pakistani home cooking. "It's a lot spicier, more flavorful and fragrant," she continues. "There are barely any spices in the food here, but I do like some dishes, like spaghetti and meatballs."
Waqar spends her free time working on a documentary about her experience at Keene State, which she'll share with friends and family when she returns to Pakistan. "Telling is not as effective as showing," she says, spoken like a true films studies major. It will be good practice for her senior thesis project, which encompasses writing and directing a short film.
After graduation, Waqar plans to apply for a Fulbright Scholarship to extend her study in the United States. She also hopes to produce films that highlight social issues prevalent in Pakistan, with a focus on bringing attention to women's rights in her country. Her dream is to someday partner with the United Nations on these types of films.
Related Stories