A Global Adventure for Student from the Kyrgyz Republic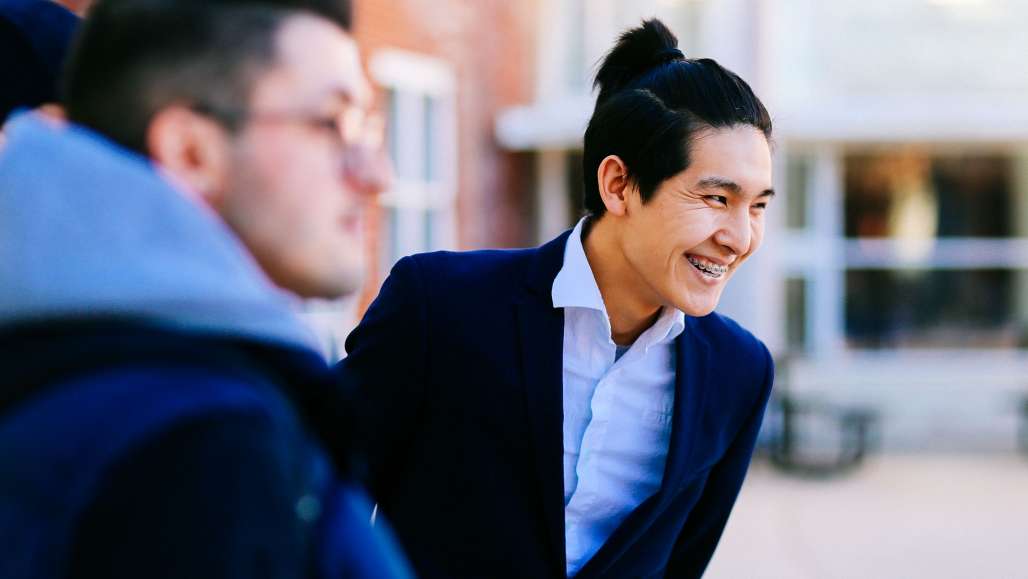 Timur Bapiev is an international exchange student at Keene State College from the Kyrgyz Republic (also known as Kyrgyzstan). A sophomore at Kyrgyz-Turkish Manas University in Bishkek, he is majoring in international relations, which is why Bapiev is thrilled to be studying in the United States this semester.
"It's very cool to go abroad. You meet new people, get new ideas, and learn from others," says Bapiev. "It's a good experience for me, as it will give me an advantage when I graduate and start job hunting. You also learn about a new culture and get to practice a different language."
Learning new languages is one of Bapiev's hobbies. In addition to taking English at Keene State, he's also studying German. Bapiev is already multilingual, speaking Kyrgyz, Turkish, and Russian, the official language of the Kyrgyz Republic. His course schedule also includes Global Politics and US Politics.
While Bapiev is soaking in the experience, he's also diving into life on campus. He hosts a radio show, "Tim's Time," every Tuesday at 8 p.m. on Keene State's radio station, WKNH 91.3, and includes a few songs popular in Kyrgyzstan. Bapiev also volunteers for community service projects.
"I'm happy here because I'm in New England. Boston and New York are not very far from Keene. I'm only a bus ride away, so it's more convenient to visit." He takes every opportunity to travel the region with friends and through trips with the Global Education Office.
Some American things Bapiev is adjusting to include our standard units of measurement and our cultural craving for coffee. "Here you mostly drink coffee, but I usually drink tea," he says. "The tea here is not the same as back home. I miss tea, but I'm getting used to drinking coffee."
Bapiev wants students at Keene State to know that Kyrgyz Republic is an independent country, and one of the more democratic counties in the region. While small and land-locked, it has a vibrant, multi-national culture, and a rich history.
While the journey to Keene was long and arduous (it included flights through Moscow and Paris to reach Boston), the trip was worth it. "I would definitely recommend studying abroad. You learn how to be independent," Bapiev says. "In life, there will be times when you can't rely on your parents and only have yourself, so it's good to learn how to do that."
What's next for Bapiev? His dream job is to work at the United Nations. He'll get a taste of what that might be like at the annual Change the World Model United Nations NYC conference, where he'll represent Guyana in March.
Related Stories