Geography Students Present Housing Research to Keene City Council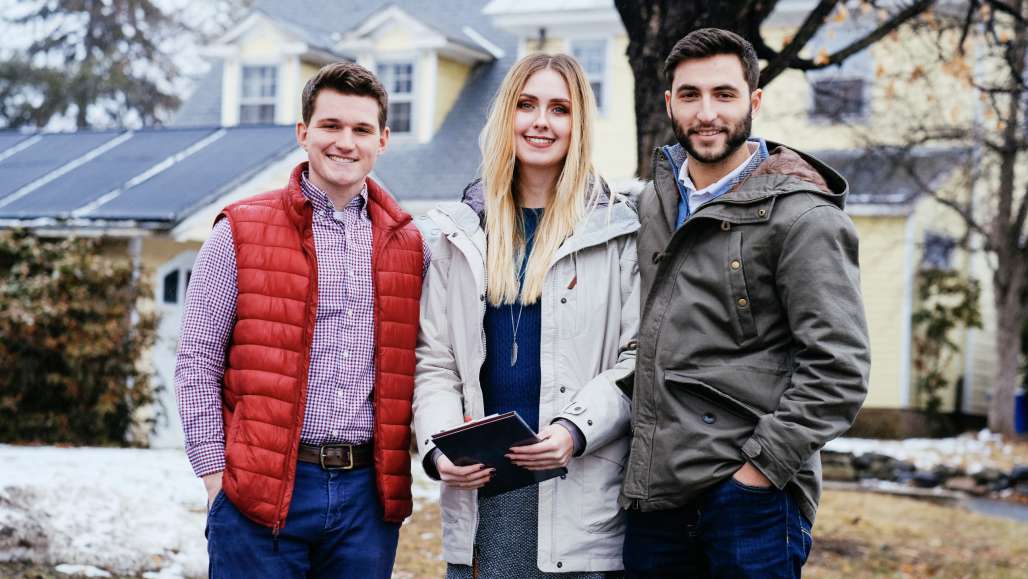 On Tuesday, February 12, 2018, geography students presented their original research on the millennial and student housing markets in Keene at a Keene City Council meeting at City Hall. Mark Landolina '18, Kevin Salina '18, and Kathryn Van Veen '18, geography majors working with faculty mentor Dr. Christopher Cusack, completed a real-world project that will help the City navigate the changing housing demands of the community.
In their research paper titled "There's No Place Like Home," the students write, "The purpose of our project is to provide geographic analysis of housing trends and neighborhood revitalization in Keene, with a focus on both off-campus student housing and millennial housing."
Their investigation revealed that millennials, ages 18 to 35, are concerned with housing affordability and quality. These young professionals are more discerning in their choice of home as they balance student debt and property taxes when making home-ownership decisions; the surplus of student-style housing is unattractive to this population. In contrast, local students are generally content with the quality of housing available off-campus. These findings are of utmost interest to the City of Keene, as they are working towards attracting and retaining younger individuals to the area.
"Our research showed how the Keene community is inherently interconnected. Housing, jobs, and recreational activities all work together to play major roles in the demographic makeup and economic prosperity of Keene," shared Landolina. "We found there are many steps that can be taken to boost the economy, modernize the aging housing stock, and attract young professionals to the City."
"This project has really highlighted what it is to be a geographer – connecting research to the public is the most important step in any project," said Van Veen. "This project was truly a collaboration between the City and College, so we hope that everyone finds something to gain from our research."
The students' research included geographic analysis of housing trends and neighborhoods. They also convened focus groups, conducted online surveys, and analyzed U.S. Census, IRS, and City of Keene data. In addition, students had the opportunity to collaborate with experts in the community, notably Tara Kessler, planner for the City of Keene; Will Schoefmann, GIS technician for the City of Keene; and Nikki Sauber, president of the Keene Young Professionals Network.
"Working on our geography senior seminar project was a very rewarding and enriching experience, and that fact was only amplified by the recognition from the City," continued Salina.
"This project is amongst the very finest undergraduate research projects I have ever seen," added Dr. Cusack. "The methodological approach of combining qualitative and quantitative analysis has resulted in a product that will undoubtedly provide tremendous benefit to the greater Keene community. We appreciate the support and collaboration of all community partners who contributed to this research."
Landolina, Salina, and Van Veen will also present their research at this year's American Association of Geographers (AAG) conference in New Orleans in April.
Related Stories