Life Is Full for Student from Nepal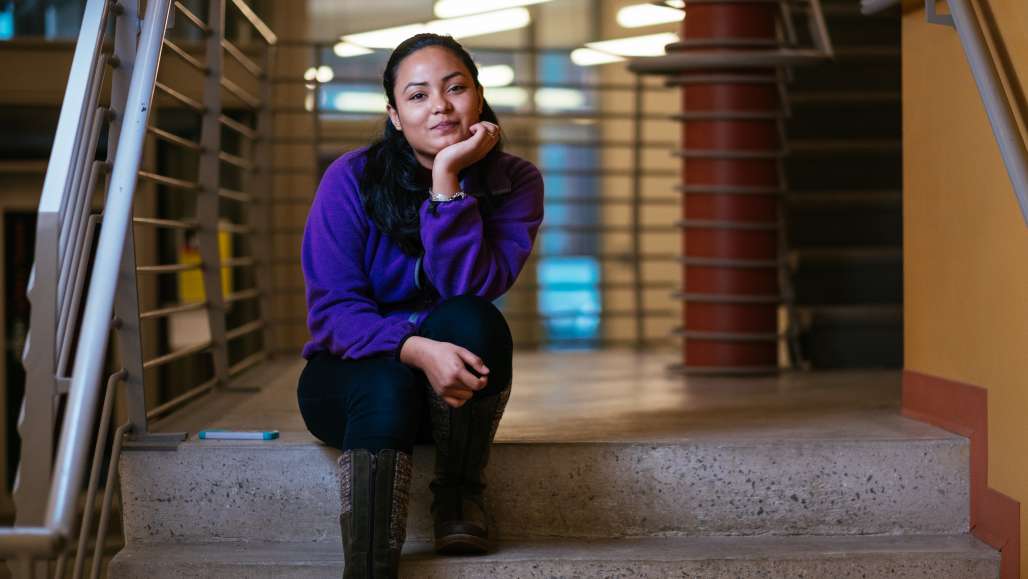 From taking photographs and managing budgeting and finances for the student newspaper to volunteering with Habitat for Humanity to working in the Science Center's new permaculture garden, first-year student Puja Thapa is already making the most out of her experience at Keene State. She participates in a wide range of activities both on and off campus, including taking classes, and can also be found at her work-study post at the library circulation desk.
An international student from Kathmandu, Thapa said the main focus of higher ed in Nepal is schoolwork and grades: "I'm really happy to see all of the resources here. I just want to use all of them and be involved in everything I can."
Thapa lives in the Living Learning Commons, a dormitory that gathers together students by interest group. She's in the Global Explorers hallway. Life in the dorm has allowed her to meet many people and get closer to those on her floor, as they are all taking a class together.
"Last semester we took Apps, Drones, and Activism, and this semester it's Globalization Culture and Place," she said. Thapa has even been able to discuss the culture in Nepal in her class this semester.
"I'm really having fun here being exposed to different opportunities," she said.
Thapa is majoring in management and has one minor in art and another in women and gender studies. She's always dreamed of being an entrepreneur and wants to incorporate art into her career. "I think I will love to involve arts in my entrepreneurship," Thapa said. "I love watercolor and I love crafting."
Thapa comes from an artistic family – her father paints landscapes using watercolors and acrylics. She and her sister, who attends school in Nepal, are the first in their family to go to college.
Thapa plans to return to Nepal after she graduates in 2021. She said she would like to start a non-profit in a rural area. "I really look forward to being an entrepreneur and doing something for my country," Puja said.
What does she like best about Keene State so far?
"The professors and the faculty members," she said. "They're really helpful both in and out of the classroom." Because of this support, Thapa feels accepted and welcome on campus. "I feel Keene State is home," she said. "Keene State is a really good place to be."
– By Grace Pecci '18
Related Stories