First-Year Teaching Students Try Out Skills from the Start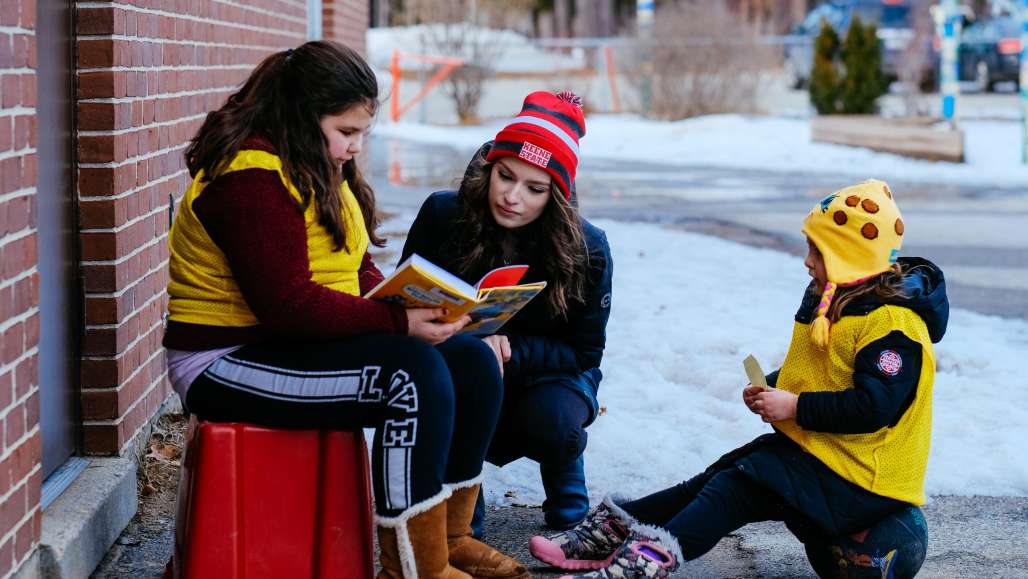 Students who are interested in becoming teachers and are just beginning their studies and lives as students at Keene State College, are gaining hands-on experience to test their interest through a partnership the College has with Project KEEP, an after-school program for young children. Symonds School is one of two elementary schools that hosts first-year teaching students in a classroom setting through the partnership.
Sean Bailey, a Keene State graduate and Symonds School Project KEEP leader, says, "The kids at our Project KEEP site at Symonds have been loving the Keene State students who come every week. On Tuesdays, our students start to double-check to make sure the Keene students are coming the following day and our students are always thrilled when they see the Keene State students walking in on Wednesdays. I would love to have this partnership continue - it has led to many of our Project KEEP students developing new role models - something many of these young kids desperately need. This is an excellent way for young college students to be exposed to children. It gives them a chance to put their own education into action!"
First-year student Kiara Byron, who participates in the program at Symonds School says, "I personally have had a lot of experience working with young children but Project KEEP is unique. Instead of working with just one grade level, I am working with multiple grade levels all at once. This has allowed me to become more comfortable working with older elementary school children. Project KEEP has also taught me that teaching is not just one structural way of doing things. I am learning to change how I handle a situation depending on who is involved. This opportunity has taught me that teaching is also about being flexible and open-minded because kids can come up with some crazy ideas sometimes. The connection we are making with the children cannot be measured, and I will personally always treasure them."
Many students start college thinking they would like to become a teacher after they graduate. Real classroom experience is an important part of discerning whether this is the right decision or not. "Often, first year students walk into college with a plan, but then end up changing their plan. The program with Project KEEP is allowing me to see if I want to work with children early on in my studies, so that I can figure out if teaching is what I want to do. It is also a really good way to test if you have the strength to work with children," says Byron.
Related Stories