Thorne-Sagendorph Faculty Exhibition with Free Public Party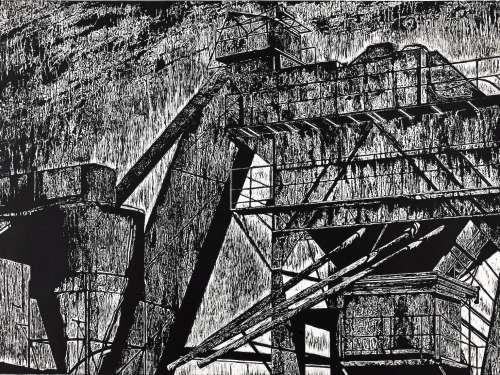 The Thorne-Sagendorph Art Gallery at Keene State College will kick off its Biennial Faculty Show with a free public party on February 2 from 5 – 7 p.m. The Faculty Show features work by Keene State Art faculty, and will be open until April 1, 2018. Art on display in the exhibition includes current and historical perspectives through painting, drawing, video, ceramics, installation, and sculpture.
"It is an honor to exhibit the works of our own Art faculty – to see their theory and expertise put into practice for our community to enjoy," said Thorne-Sagendorph Art Gallery Director Brian Wallace. "When visitors leave the Gallery after viewing this work, they will be inspired by the talent of our faculty, and they will take with them a new understanding about the creation of art."
Some faculty members will offer an in-depth look at their art. These conversations, like the Thorne Gallery, are free and open to the public. On February 9, faculty members Jonathan Gitelson, Zachary P. Stephens, and Miles Warner will discuss their work and Randall Hoyt will play his new board game "Road Hog" with visitors. This will take place from 3:30 – 5:30 p.m. at the Gallery.
On March 27, faculty member Peter Roos will discuss the large gallery installation charting the evolution of his figure drawing over nearly 30 years of teaching. This will take place from 11 a.m. – Noon at the Gallery.
Participating faculty artists and designers include:
Molly Fletcher
Jonathan Gitelson
Randall Hoyt
Robert Kostick
Paul McMullan
Walter Nicolai
Stephanie Nichols
Yuan Pan
Lynn Richardson
John Roberts
Peter Roos
Zachary P. Stephens
Miles Warner
Along with the faculty exhibition, the Thorne continues "Unboxing Bob: A study of artist Robert S. Neuman through objects, images, and ideas", a companion to the recent "Impulse and Discipline" exhibition of Neuman's work. The Gallery will also exhibit a new video installation titled "US" by recent artist-in-residence Denise Dumas, which will run nightly after sunset in the Gallery's lobby. ColorCycle, a community collaborative recycling-based project will continue to be exhibited, along with selections from the Gallery's permanent collection.
More details on current and upcoming exhibitions can be found at http://www.keene.edu/tsag.
Related Stories