Murder, She Writes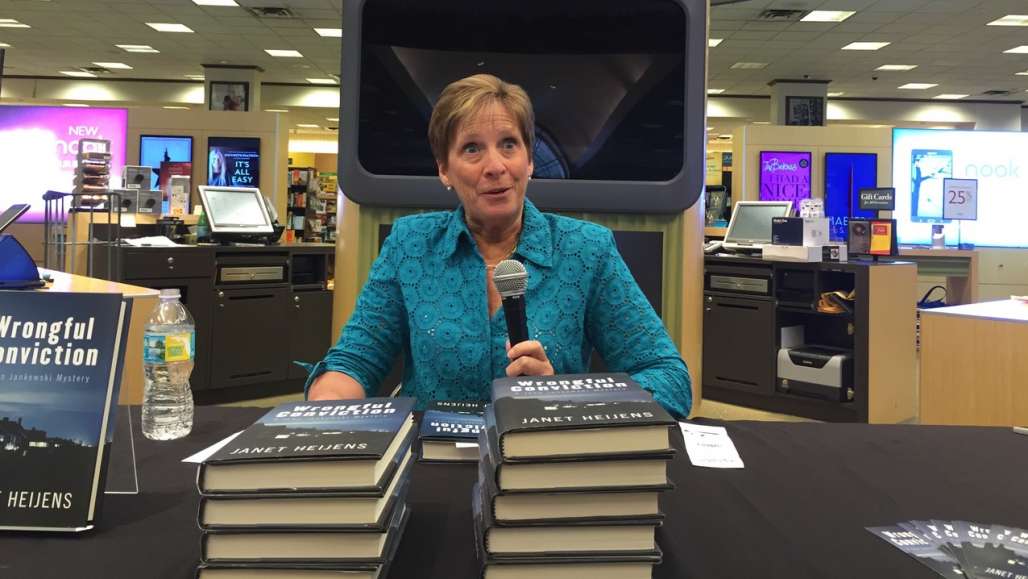 When Janet Smith Heijens '88 retired from an international career in business, there was murder in her future. Or, to be more specific, murder mysteries.
"I've always loved to read and I've always had it in the back of my mind that when I retire, I will read all the books I ever wanted to read and start writing," she says. "So I took a course at the local community college."
A writing group kept her plugging away, and after she turned to penning mysteries, an article about a man who was wrongfully convicted of killing his family captured her attention – and her ire. "I was shocked by the whole thing," she says of the case, in which a man served 40 years in jail before a deathbed confession set him free.
His story inspired her first published mystery novel, Wrongful Conviction, which led to a three-book deal from a second publisher for a Wrongful Conviction series. The first of the series, Snook Wallow, was released in the spring, and Heijens is hard at work on the second.
"I like to approach my writing from the point of view of social issues," she says, "so there's always a wrongful conviction, or something that went wrong with the justice system. The first novel was about racial bias. Snook Wallow is about human trafficking in south Florida, which is a really big problem. In the third book, the social issue I'm approaching is homelessness and mental illness."
Heijens avoids scenes with sex and vivid violence: many of her readers are retired people, and not looking for that kind of a read, besides which, the graphic stuff is tricky to write. But, as she notes, her stories always start with a dead body or bodies. "I incorporate the social issues slowly and with a light touch," she says. "But it's important to me to get those things in there."
When she starts a book, she tends to have an idea of the narrative arc, but not an outline. That allows the plot to take an unexpected turn, or the characters to take over. She does a lot of research, she consults with her son, who's a lawyer, and she's in touch with organizations like the Innocence Project, which works to free innocent people in prison.
A nontraditional student at Keene State, Heijens earned her college credits by taking night classes over a number of years while working full time at Markem, a Keene-based manufacturer (now Markem-Imaje). Her career in finance, marketing, and management took her to England, Chicago, St. Louis, and Mexico. These days she's based in Sarasota, Florida, and she and her husband, Pieter, who is Dutch, spend time every year in Holland.
"I really got a good education at Keene State," she says. "It had an absolutely solid business program. That served me well for my career. You reinvent yourself when you retire, because you can't be what you've always been. I know lots and lots of people who have come from all parts of the world, from all professions, and nobody is where they started out. Of course, we're still the same people we always were deep in our souls. But you leave those paths behind and you reinvent yourself."
In Heijens' case, reinventing herself has meant living her own story and also the one she's inventing at the moment. "It's always in the back of my mind," she says. "What's the next chapter, what's the plot point I need to incorporate? It percolates for a while. Sometimes I will write like a fiend for days, and sometimes I will go for weeks without writing anything. But I've tasked myself with producing at least 5,000 words a month. My writers' group keeps me going. But it comes in fits and starts. It's amazing how busy you will be when you retire. People always told me that, and I never quite believed it, but it's true. You get involved and you keep busy. It's a wonderful life."
Related Stories