Life Is 'A Lot of Adapting' for Keene State Grad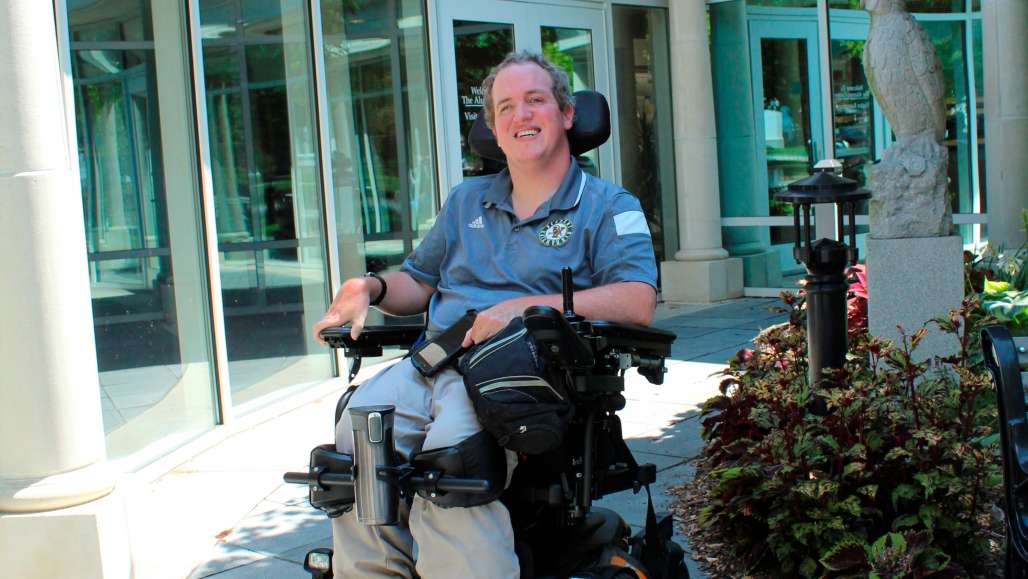 In many ways, Ben Wimett '08 is a typical 33-year-old. He lives in an apartment complex, has a job he loves, and dotes on his dog, Root Beer. In his free time, he likes to hike, fish, and hunt. Three years ago, he snagged a 12-point buck in Pennsylvania.
What's not so typical is that he does all of this on wheels – the wheels of his motorized wheelchair. Born with cerebral palsy, Wimett lives with limited mobility, so he's spent considerable time figuring out how to make his way through the world. He's parlayed that, along with his Keene State sociology and American Studies degrees, into a career helping other people with disabilities use adaptive technology to make their lives easier.
Wimett is an assistive technology access specialist with the University of Vermont Center on Disability and Community Inclusion, in partnership with the Vermont assistive technology program, an agency that supplies services to people in Vermont. His job is to stay on top of the latest in adaptive tech – anything from software to helpful gadgets to iPads.
"I'm a natural fit for this job because I adapt every day," says Wimett. "This isn't just a job for me; it's my life." He demonstrates by pointing out some of the features of his personal set-up. His keys are hooked to a retracting chain so they'll yo-yo back to him if he drops them. His wheelchair boasts a USB port so he can use its battery to charge his cell phone. It's also been fitted with a handy cup holder for his coffee. The wallet that holds the pictures of Root Beer he likes to show people? It's secure in a bag that's attached to the chair.
When he's at home in Brandon, Vermont, or at his office in Rutland, Wimett uses voice technology to write and send emails. To grab items that are just out of reach, he uses a reaching tool. If he's off exploring the woods on an accessible trail, he uses a backpack with a built-in water pouch and straw. When he hunts, he uses a gun mount that attaches to his wheelchair.
"For me, life is a lot of adapting," Wimett says.
And a lot of helping others adapt. One of three assistive technology specialists for Vermont, he covers the state's southern region. People come to him looking for help with conditions ranging from learning disabilities to degenerative neurological diseases.
"Someone might come to us and say, 'I need to be able to write a paper, but I can't type. Can you show me an alternative?'" he says. "It might be voice dictation, a modified keyboard, or a regular keyboard with a guide so the fingers don't slip. You know, the possibilities are endless."
Wimett loans out equipment and provides demonstrations on how to use it. His agency also attends public awareness events and conferences. The idea is to help people adapt to be as independent as possible – a process Wimett understands very well.
He lives alone with Root Beer, and has personal care aides who help him get up and ready for work in the mornings and get him into bed at night. During the day, though, he runs his own show, taking public transportation to work and cooking his own dinner. "Once I'm off and rolling," he says, "I'm pretty much OK for the day."
A transfer from the more remote Castleton State in Vermont, Wimett found the accessible campus and college life he'd been missing at Keene State. Professors like Therese Siebert and Margaret Walsh, coupled with his desire to help people, drew him to major in sociology (and an inspiring professor, Richard Lebeaux, drew him into American Studies).
Because of the nature of his life – "I have to sit back and wait a lot for things to get done," he says – Wimette is an observer. He watches people, studies them. That gives him insight into ways to help people at his job. What has he learned from his own, watchful life?
"Appreciate the small stuff," says Wimett. "If you focus on the positive, ask for help when you really need it, and have faith in your own abilities, you'd be amazed at what you can actually do."
Related Stories