Body Painting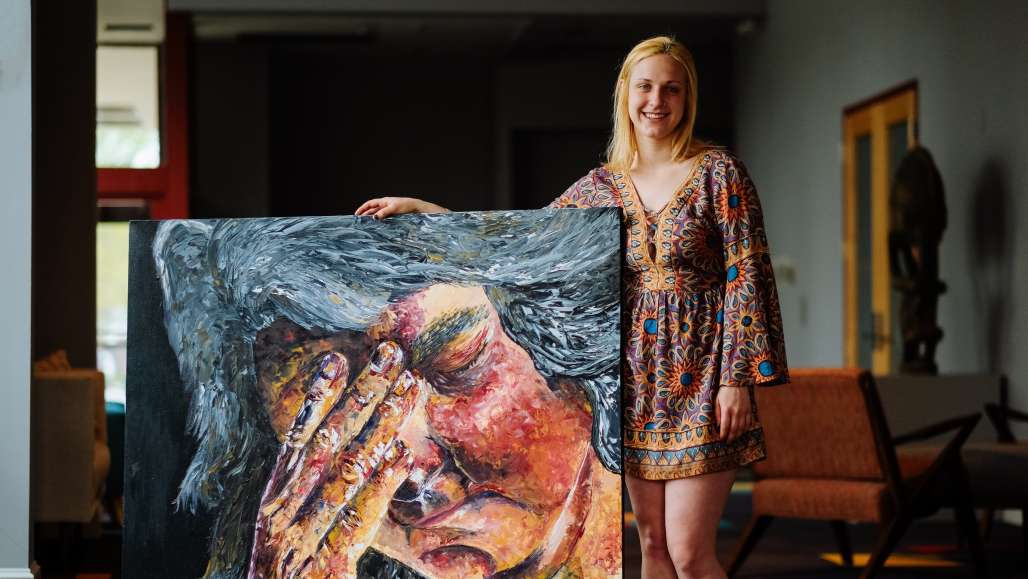 During her senior year at Keene State, Elizabeth Gallacher '17 set out to undertake a series of paintings of the nude female figure. She turned to the model whose poses she captured in her artwork to set the tone.
"Beauty comes in all shapes, sizes, ages, and cultures," Gallacher wrote in the artist's statement that accompanied the larger-than-life paintings, which were displayed in the Thorne-Sagendorph Art Gallery's spring exhibition for graduating studio art majors. "The objective is to express a positive body image using a strong, confident woman."
Interestingly, Gallacher originally planned to highlight rape culture in her nude series. But talking with the model and seeing how comfortable she was in her own body, she says, "flipped my perspective on the concept."
The process started with a photo session with the model, which Gallacher directed. She worked from the photographs to create the large-scale oil paintings, using bold colors and a palette knife to achieve a textured, expressive effect. She applied the paint colors directly on the canvas, rather than mixing them first – so that as a viewer approaches the paintings, the images break down into streaks of thick paint and color.
"I like that aspect of it," she says. "It allows for different interpretations." For the same reason, she chose to paint close ups of different sections of the body rather than entire figures.
The result is a selection of large, eye-catching, and dramatic figure studies. "I'm not into fine brushwork or making everything perfect," says Gallacher, who especially enjoys painting the female figure. "A bigger scale allows for more room."
Gallacher hails from New Fairfield, Connecticut, and is now living and working in Keene while she saves up money to attend a master of fine arts program. Her experience in the College's Art Department was "amazing," she says. "The professors care about you on a personal level, and there's a lot of one-on-one time with professors, which was really, really helpful."
Since mounting her work in the Thorne-Sagendorph exhibit last spring, Gallacher has been adding pieces to the series. She hopes that viewers will find a connection to the paintings and her model.
"I want people to take a second to see how beautiful she is and how confident she is in herself – and how she doesn't feel ashamed when she takes her robe off," she says. "She's not embarrassed, and she doesn't feel uncomfortable at all. I wanted people to connect to it, and realize their own beauty, and see beauty in themselves if they hadn't."
Related Stories