From English Major to Management Job and Beyond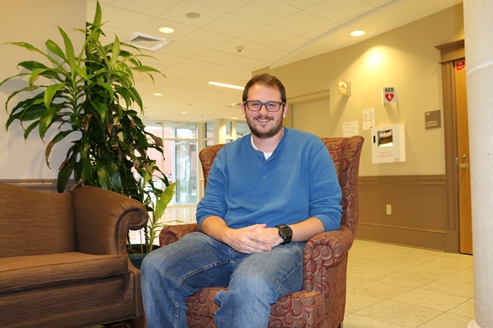 A December graduate will put the skills he acquired as an English literature major and writing minor to work at a company that specializes in marketing.
Rory Carbone '17 starts work December 18 at NCG Inc., based in Shelton, Connecticut. He'll begin as a management trainee and will have the opportunity to move up through a tiered system from sales into account management. "It's all based on reaching the goals they set for you, and on how hard you work," he says.
Carbone noted that NCG, with clients including T-Mobile, has hired several Keene State grads. He was attracted to the company by its focus on employees and the opportunity to work individually and as part of a team.
While he won't rule out being bitten by the management bug, Carbone has plans to eventually attend graduate school and work toward a PhD in English composition. His goal is to teach college and run a writing center.
A nontraditional student who is now 26 years old, Carbone grew up in Keene and returned after trying culinary school in Boston and taking some general ed courses at a Massachusetts community college. "Nothing felt like the right thing," he says, "and then I came to Keene State."
He started with no path in mind, and ended up in the English Department after taking a course with Professor William Stroup. "I absolutely loved it," he says. He joined a coed fraternity, Psi Upsilon, and has served on its executive board and the College Inter-Fraternal Council.
He has also worked as a peer tutor at Keene State's Writing Center, a job he stepped into after interning there. English Professor Kate Tirabassi, who taught the internship class he took, asked him to compile a history of the Writing Center. This led him to present the history, along with some other peer tutors, at conferences at Keene State and in Long Island.
"I've made so many connections and had so many opportunities at Keene State," Carbone says. "At the other schools I went to, I just went to class and went home and was never interested in any extracurriculars. Being here at Keene was a complete change from that. The close community here made me want to be active on campus, and it's been very rewarding."
Related Stories