Sustaining the Grounds – and the Memories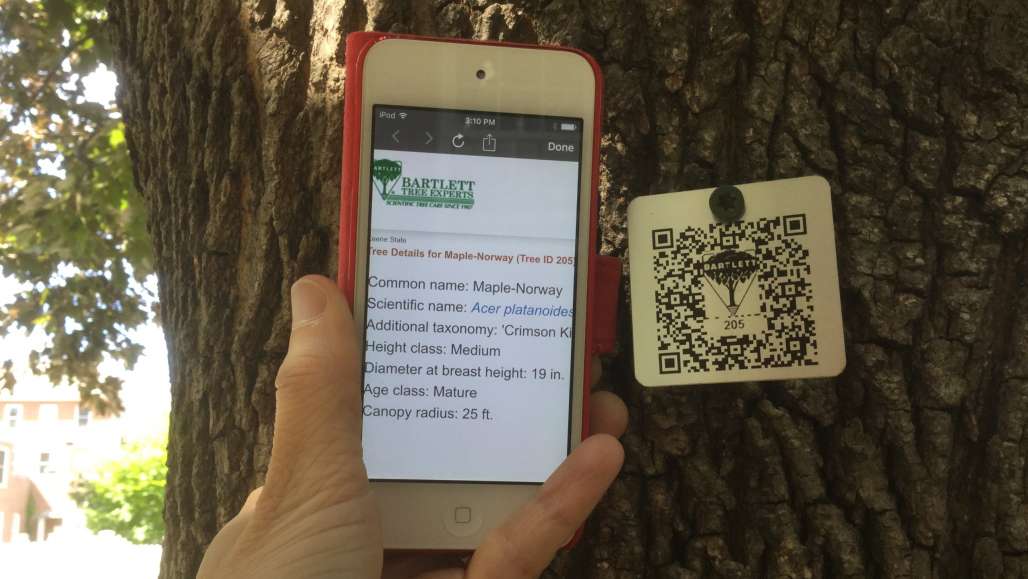 (From the Fall 2016 issue of Keene State Today)
When Bud Winsor joined the staff at Keene State, the first thing he did was read Strivings, the 1984 history of the College. "There's so much good information in there that's been forgotten," says Winsor, who oversees the campus grounds.
He learned, for instance, that the nine lilacs at the head of Fiske Quad were planted there to commemorate the lives of nine Keene State grads who lost their lives in service during World War II. The bushes weren't marked at the time, and Winsor and Jeff Garland, who was then the College arborist, thought it was important that people knew why they were there. They got a grant through the Alumni Association to add markers. "Now they'll be forever sacred," Winsor says. "People will understand they need to remain in place."
For Winsor and his crew, sustainability at Keene State means conserving history and intention in addition to ensuring that the trees and gardens are cared for in a way that's environmentally sound. So when arborist Noah Washburn and gardener Joe Britton determined during spring break in March that the five Blue Spruce trees planted on Oya Hill – a much beloved spot on campus – were rapidly deteriorating and needed to be removed immediately for the safety of students and others, they were replaced with five Hoops Blue Spruce, a similar but improved species.
"When we were cutting them down and replacing them, I had to explain to a lot of people what we were doing and why we were replanting," says Washburn. The "why" has to do with the man the hill was named for, Henry Oya, who tended to the landscaping at Keene State for 18 years. His successor planted the trees in honor of Oya and his lasting contribution to the beauty of campus. "It's not fitting" to replace the trees with something that didn't reflect the intent of the Oya memorial, Washburn says.
There are plenty of other examples, including the time Winsor teamed up with former Sustainability Coordinator Mary Jensen to ensure that the clock face at the peak of Huntress Hall would not be eliminated during building renovations. When they discovered the clock had been given to the College by the Class of 1937, something few on campus remembered, they made sure it was restored rather than removed. "We thought, if the class gave that gift, it shouldn't magically just disappear, and no one should say it has no value anymore," Winsor says. "We need to keep it going."
Trees and other features of the College grounds will likely outlast most of the people here on campus now, notes gardener Britton. "That's one reason we sometimes get really protective about the trees," he says. Chaining bikes or tying ropes to trees can damage them. And many on campus – about 50 – were planted in memory of alumni or students, often those who tragically died young. Plaques and the recently installed QR code tags impart information about individual trees to students and others to indicate the species and, in the case of memorial trees, about those they commemorate. "Now they'll always be remembered here," says Britton.
Coming to campus? Like trees? You can now get information on some 250 trees along Main Street and Appian Way. Here's how to do it: Download a QR code reader onto your smart phone or tablet. Many are free. Look for a tree with a small metal tag hanging from it, open up the reader app, take a photo of the QR code on the tag, and the app will pull in information about the tree.
Related Stories