100 Candles for Keene Normal School Alumna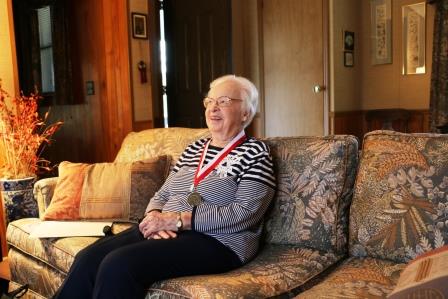 Golden Circle ambassador Norma Walker '51 and alumni magazine editor Jane Eklund took a trip to Rochester, New Hampshire, recently to visit a very special alumna. Helen Marison '39 graduated with the last class of Keene Normal School. She's also a graduate of Keene Teachers College, having earned a master's degree in 1961.
Marison became a centenarian November 15, 2017. In honor of that auspicious milestone, Walker presented her with a certificate from Keene State Interim President Melinda Treadwell, along with a medallion recognizing her membership in the Golden Circle, which is made up of Keene State alumni who graduated 50-plus years ago.
Growing up in Barrington, New Hampshire, she says, "I did want to be a teacher. Even when I was small and playing with dolls, all I wanted to do was play school. I didn't think I would be able to go, because my mother was left with three children to bring up. She lived on a farm, she worked as much as she could, she took care of my grandparents, and when she couldn't work anymore she didn't have much income coming in."
But someone from Marison's high school told her mother, "Somehow, she's got to go to Keene Normal School."
"So I borrowed money," Marison remembers, "and worked all the time I was there, and that's the way I got through school."
After college, Marison embarked on a long teaching career, starting at the helm of a one-room school where she served as janitor as well as teacher. She taught many grades, but came to love first grade best.
She's now long retired, and lives on her own in a mobile home retirement community with friends and family nearby. Her 100th birthday has occasioned a party at the community and a posting on the Red Sox jumbotron, in addition to the visitors from Keene State.
To what does Marison attribute her longevity? She likes to quote her sister-in-law, who jokes that she's had a long life because she never married.
Related Stories