Green Bikes Program Earns National Award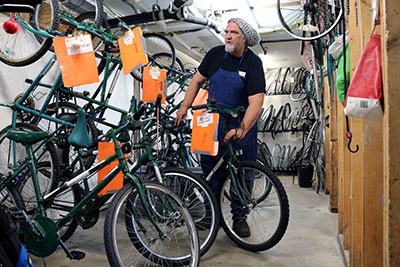 Keene State College earned recognition from the League of American Bicyclists with a silver level Bicycle Friendly University℠ (BFU) award. With the announcement of 46 new and renewing BFUs, Keene State joins a cutting-edge group of colleges and universities across the United States that are transforming their campuses and their surrounding communities. There are now 182 Bicycle Friendly Universities in 45 states and Washington, D.C. Keene State started its Green Bikes Program in 2002, and it serves more than 1,000 students, faculty, and staff each year.
"Sustainability is a core value at Keene State College, and our Green Bikes Program is an important example of how the College delivers on its commitment to this value," said Keene State College Director of Campus Sustainability Dr. Cary Gaunt. "Through investing in the Green Bikes Program, we decrease our carbon footprint, provide opportunities for increased exercise, and offer another way for our students to connect with the people, stores, restaurants, and green spaces in the beautiful city of Keene. The program also helps to promote a fun and healthy campus culture."
Green Bikes Coordinator Marcus McCarroll has been managing the day-to-day operations of the program since 2005. "Maintaining the bikes, and the program, is a labor of love. I believe our community should have access to bikes, especially our students. The Green Bikes Program helps students get to work and to enjoy all that Keene has to offer. It is also an important part of our sustainability efforts on campus."
Moving forward, Keene State will have access to a variety of free tools and technical assistance from the League to become even more bicycle-friendly.
"From renewing Platinums to brand new Bronzes, this latest class of Bicycle Friendly University awardees show a wonderful commitment to safety, health, and sustainability through their efforts to support bicycling on campus," said Amelia Neptune, Director of the League's Bicycle Friendly America Program. "We applaud this round of BFUs for raising the standard and being innovative in making bicycling a safe, convenient and enjoyable option for students, staff and visitors alike."
To apply or learn more about the free BFU program, visit the League online.
Related Stories