Students Immerse Themselves in German Language Opportunities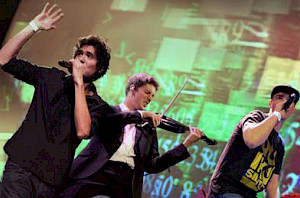 Keene State students studying German are gaining a well-rounded education. In addition to their classroom work, the students are sharpening their German language skills through experiences outside of the classroom.
Recently, the students attended a concert in Westford, MA sponsored by the American Association of Teachers of German. The German band, Einschoch6, performs a blend of Hip Hop and classical music at schools and other venues in German, including the Kennedy Center this fall. The band consists of six classically trained musicians and three rap lyricists.
To bring international cuisine to the College, Keene State offers a taste of food from different countries during its Global Chef event in the Zorn Dining Commons. Intermediate German students sat down with Global Chef Glenn Bust to discuss various topics, once again, in German.
Using their German skills in real situations outside of the classroom is naturally a positive experience for learners of the language.
Related Stories