Keene State Student Raising Money by Skydiving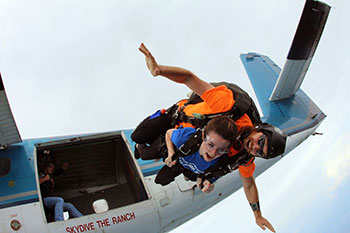 When Keene State senior Lauren O'Brien was in middle school, she was diagnosed with cancer. At end of her treatment, she received a granted wish from the Make-A-Wish Foundation to take a cruise to celebrate this milestone. Now Lauren is doing her part to pay forward the generosity she received by taking part in a fundraiser to benefit that organization.
The twist: Once Lauren raises $1,000 for Make-A-Wish, she'll have the chance to skydive for a crowd of cheering spectators.
Each year, a team of "Wish Jump" participants spend a few months fundraising, and then come together for a day of skydiving while family, friends, and spectators watch and cheer from the ground. Since 2011, nearly 100 Wish Jumpers, including chapter CEO William Trigg, Ph.D., have participated in this event and have raised nearly $170,000. Funds raised are used for granting wishes to local children with life-threatening medical conditions.
Lauren has been participating in Wish Jump for a number of years. She takes part because she wants to help a "wish kid" in a situation similar to hers have a chance to have their wish granted. "After receiving a wish, and the amazing surprises that came along with it, I wanted to give back in some way to a program that did so much for my family," said Lauren.
Make-A-Wish is known for their fundraising through more traditional means, but skydiving is something unique that members can take part in, both to raise money as well as awareness for the foundation.
"I would 100 percent encourage more people to do this," said Lauren. "It's such a crazy way to fundraise for an amazing cause, it gets people excited, and you get to jump out of a plane!"
Related Stories