Parents Offer Their Thoughts During KSC's Parent Family Weekend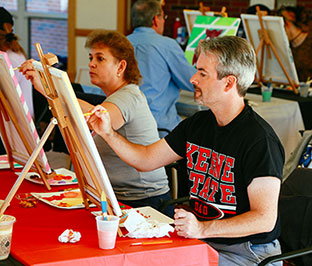 Campus was awash in parents this past weekend as Keene State hosted Parent Family Weekend. Students took full advantage of the opportunity to bring their families around to see what life is like at Keene State.
Bill Nash from Marshfield, MA, who was visiting his daughter Hannah Nash '21, was happy to say that Hannah had made a smooth transition from Marshfield to Keene.
"We speak with her almost daily and she tells us about new experiences and enjoying the friends she's making," said Nash. "We think it's an excellent fit for her here, and we're very pleased she chose Keene State from what we encountered from the admitted student day and the visitations we've had."
Maryann Garcia from the Bronx was also happy to say that her son Mark was settling into campus easily.
"I miss him profusely but he feels like it's a good fit. He was able to make friends through his roommate and he met a nutritionist so he's working out and being more nutrition conscious," said Garcia.
Lisa Snietka from Middletown, CT who was visiting her daughter Rachel said that she wasn't at all surprised that Keene State was agreeing with Rachel.
"I felt like it was a total fit when we walked down Wyman Way for the first time back in the summer. We love it here and that hasn't changed," said Snietka.
Tim Kahlman from Lowell, MA was visiting his son Matt along with Matt's grandfather Fred and was pleased to report that Matt had taken a liking to Keene State and the Journalism Department.
"I've really seen a change in him, he maybe wasn't the most applied student in high school but he's come to school here and he's gotten into it," said Tim. "I think it's a really good fit, I've seen him change as a person and he's taking on more responsibility and seems to be enjoying going to school and taking a vested interest in school."
Fred Kahlman had a similar story to tell about Matt coming to Keene.
"From the very first day he was here there was a change in him, and he said three days after coming here that he didn't want to come home," said Fred. "Coming from him that means something."
Related Stories