KSC Accepts National Service Award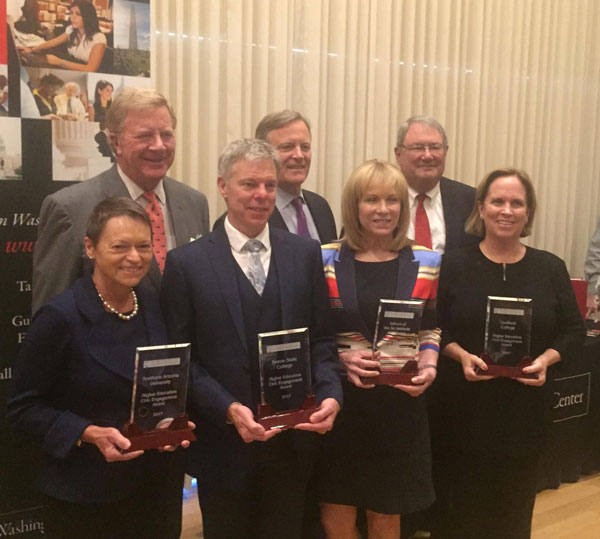 Today, at the National Press Club in Washington, D.C., Keene State College accepted The Washington Center's 2017 Higher Education Civic Engagement Award for work with the Keene Housing Kids Collaborative, a non-profit organization dedicated to providing opportunities for kids living in housing owned or managed by Keene Housing.
The award provides a Keene State student with the opportunity to travel to Washington, D.C. to attend the Inside Washington seminar that focuses on topics related to politics, media, and advocacy. The student will also visit organizations throughout Washington, D.C.
The partnership between Keene State and the Collaborative began in 2015, when Keene State professor Dr. Patrick Dolenc joined the board of directors for the Keene Housing Kids Collaborative at the request of Josh Meehan, the director of Keene Housing. Dr. Dolenc began to look for ways to include faculty and staff in the partnership to create social mobility for kids living in Keene Housing.
Keene State alumna Alyssa DeMarco '16 worked on a project with Keene State's Kim Schmidl-Gagne and Liz Chipman, the executive director of Keene Housing Kids Collaborative to ensure that children taking arts classes in Keene had the proper materials and support to succeed.
"In collaboration with Keene Kids Collaborative, we raised funds and materials for the kids in Keene Housing, and provided kids with vouchers to participate in dance classes at MoCo Arts," said DeMarco. "MoCo holds rehearsals leading up to a big year-end recital. Some kids would come to rehearsals with things like iPads and takeout food to keep them occupied while waiting for their rehearsal time. The kids who were getting subsidized dance lessons didn't have the means for these kinds of items, so we were trying to raise whatever we could."
The project ended up providing the children with money to purchase items needed for their costumes, blankets, and food to make sure that each child was comfortable at rehearsal.
Currently, the work being done by Keene Housing Kids Collaborative and faculty at Keene State is gathering data for a longitudinal study aimed at measuring the effectiveness of the organization in the Keene community.
"We are working on a longitudinal study with data from the Keene School District to separate out data for kids who live in Keene Housing and further separate out students who take part in programs from the Keene Housing Kids Collaborative," said Dr. Dolenc. "Using the Social Genome Model, we're determining the benchmarks that indicate that these kids are on the path to the middle class."
"I think we used the landscape of the relationship between Keene Housing Kids Collaborative and Keene State, and how it's evolved, as a basis for talking about civic engagement with our students making a difference in our community," said Dr. Dolenc. "We're going forward strong, and the relationship will only continue to grow."
Related Stories