Civil Rights and Southern Exposure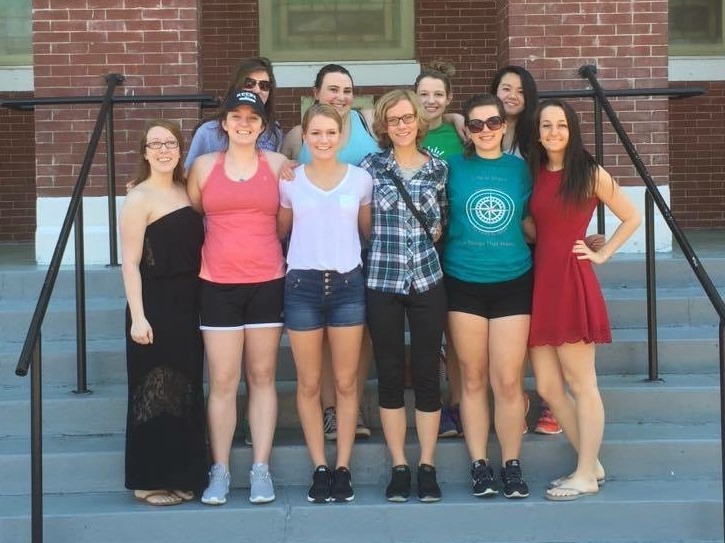 Katie Masso-Glidden traveled all the way to Selma, Alabama, to learn, among other things, about a Keene civil rights hero.
"I had no idea about Jonathan Daniels," says the safety major and environmental studies minor who will be a senior in the fall. "He's an icon in Keene." Masso-Glidden was on an alternative spring break trip when she learned about Daniels. The Keene native and Episcopal seminarian was registering voters in Alabama in 1965 when he was assassinated while shielding a 17-year-old black civil rights activist from the gunman's bullets.
She'd signed up for the alternative break – one of many offerings of Keene State's Community Service Office – out of the blue, after hearing another student talk about the service learning program. She had no idea what to expect when she and eight other students landed in Selma to work with Something New, an arts and activism organization for young people.
The people at Something New, she says, "couldn't have been more warm and welcoming." Her experiences there were eye-opening – and pushed her comfort zone. "Being from New Hampshire, going to school in New Hampshire, it's pretty obvious that I'm not exposed to much diversity," says Masso-Glidden. "This was the first real time I'd ever been a minority in any situation. So that was definitely an awakening for me."
The group participated in nonviolence training and learned a lot about the Civil Rights movement of the 1960s, including Selma's place in it as the starting point for Martin Luther King Jr.'s historic march to Montgomery. The more Masso-Glidden took in, the more she wanted to know. When she visited the spot where Jonathan Daniels was killed, she thought "Why aren't we being taught about this?" She found herself getting upset when she learned that today, 25 percent of Selma's population is black, but 80 percent of incarcerated people are black.
"I started raising questions, and wanted to find out what else I don't know, and what I can do to get involved, to make a difference, and make people aware of what's truly going on in our country," she says.
She got more involved just a few months later when she landed a summer internship with Something New. During five weeks in Selma, she and interns from across the country and around the world. They went into the community and volunteered, including running an art camp for local kids.
The experience helped Masso-Glidden understand the link between lack of education and poverty, and she realizes now that she was closed-minded in high school, mostly because she wasn't exposed to different kinds of people. She doesn't hold it against her fellow students when she hears them make comments that stereotype or show disrespect of others, but she calls them on it.
She's raising awareness in other ways, too. She competes in the Miss New Hampshire Scholarship Program, and has made the Something New organization part of her platform. She encourages other Keene State students to get involved, and she led an alternative break trip to work with refugees in Georgia this spring.
"Put yourself in a new experience," she says. "Expose yourself to something you have never gone through, and it will really change your life."
Related Stories