Graphic Designer Chandler Ives '17 Joins Calypso Communications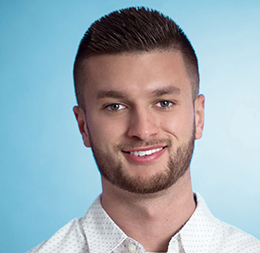 Hailing from Bow, New Hampshire, newly minted graphic design BFA (with a minor in studio art) Chandler Ives '17 was recently hired by Calypso Communications, an integrated creative and public relations agency with offices in Portsmouth, N.H. and Portland, Maine. Ives will bring his web design and animation talents to assist Calypso's art directors on a myriad of creative projects. He'll use his valuable skill set to assist on web and print creative for Calypso's diverse client base.
"Chandler … is a talented graphic designer with an innovative mind," said Houssam Aboukhater, Calypso's managing partner. "His contagious enthusiasm for learning and esteemed creativity make him an asset to the team and to our clients."
"My skill set in web design helped tremendously in landing this job." Ives explained. "The Keene design program helped prepare me greatly. My mentor, Art Professor Yuan Pan, helped me grow the most. He did a great job teaching me web design and animation, and he helped prepare me for the industry. Yuan also continued to serve as a mentor for me throughout the interviewing process post-graduation."
And Ives did a lot to prepare himself for the work world while he was at KSC. He founded Tape2Tape Apparel, offering designer hockey apparel, while still a student and shipped packages out of his dorm room. He also interned at AMI Graphics, the New Hampshire Automobile Dealers Association, and Direct Link Corporation, and worked with a variety of clients as a freelancer.
Related Stories