Dr. Hays's Summer Researchers Study Eelgrass, a Shoreline Protector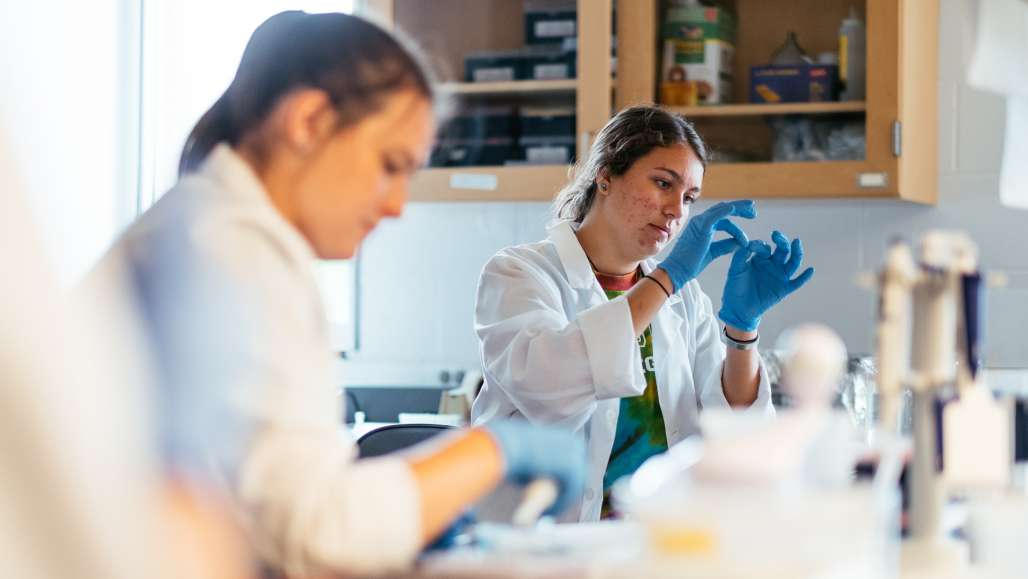 Dr. Cynthia Hays is working with three summer undergraduate researchers on a project to document genetic diversity in an ecologically important species of marine plant called Zostera marina, otherwise known as eelgrass.
Rachel Graves '19, Sarah Larsen '19 and Meghan Hoffmann '19, are working together with Dr. Hays to collect data on eelgrass through DNA extraction, PCR and gel electrophoresis to better predict the long-term patterns of population structure and stability of Zostera marina.
Understanding as much as possible about Zostera marina could be increasingly important in the near future.
"Eelgrass helps coastal ecosystems by protecting shorelines, providing homes for sea life, and filtering out a lot of carbon from the environment," said Larsen. "This means that eelgrass could potentially be utilized to help combat climate change."
The skills that are needed to conduct this work are learned by students during class. "I constantly use skills and knowledge in the lab that I first learned in the classroom, especially from Genetics class," said Graves. "We run PCRs, use agarose gel electrophoresis, and need a thorough understanding of DNA to work in this lab, much of which I first learned in Genetics."
Hoffmann said that she believes that this research will set her up for a career working in the science field as a researcher.
"This work is very important regarding my career aspirations. I plan to either teach biology to high school students, or be involved in some type of biological research, and most of the protocols I do in lab are ones I have learned previously in class," said Hoffmann.
All three of Dr. Hays's undergraduate researchers were excited for the opportunity to live on campus and be paid through the Building Excellence in Science and Technology (BEST) program to work side by side with her, as well as learning several new skills along the way.
"I am so grateful to be working in Dr. Hays's lab because I have learned so many laboratory techniques and practices that will be useful to me in the future," said Graves. "I feel that, due to the size of Keene State's classes, it is much easier to get on a personal level with the professors, and therefore have more opportunities for research," added Hoffmann.
Related Stories